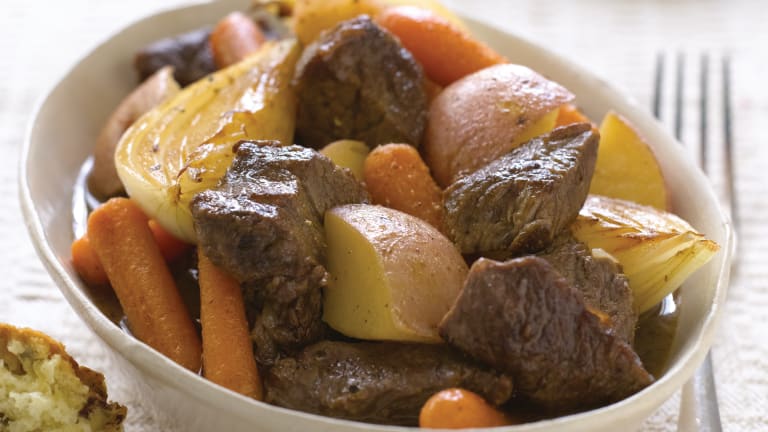 One-Pot Shabbos Meals You Didn't Expect
We had two dishwashers in New York. One for meat and one for dairy, in our kosher kitchen. As I simply love to dirty up every possible serving platter, big, small, awkward shaped and all - it would sometimes take till Monday to finish dishwasher loads.
One of the more interesting things about Israel is that most homes do NOT come with appliances. I repeat, do NOT. It's quite shocking and beyond comprehension to most Westerners and I was personally beside myself with horror. You see Hubby didn't want to invest in a dishwasher (forget dishwasherS) for our rental apartment. Well I informed him, with no uncertainty and small dose of defiance, that I simply would not move to Israel without a dishwasher. I love making sweeping, dramatic, unilateral decisions when I am upset. The kind of decisions that I feel 1,000,000% passionate about and that almost never hold up to the test of time.
Hubby said HE would do all the dishes. He argued that sometimes we have to run the same load through 2 or 3 cycles to get totally clean (because of my aforementioned awkward serving pieces) and that the silver rim detail on our fine Shabbos china has now dulled despite our splurge on a fancy dishwasher model and all those bottles of Jet Dry.
Unlike my "unwavering" definitive proclamations Hubby speaks more softly and keeps his word. Four years into our aliyah he is still the main doer of dishes. And he happens to love it. He finds it therapeutic in addition to feeling like he's doing good by our Shabbos china.
I do the dishes about 13% of the time. Mostly when Hubby's not around and I find myself in the middle of some epic cooking session that simply cannot continue unless I clean as I go.
And so that's the long and short of my love for the one-pot recipe. Because you can never truly appreciate the luxury and beauty of one dirty dish until you find yourself stranded in the desert without a dishwasher.
And so today I share some unexpected Shabbos meat mains that even Hubby (for all his love of dishwashing) appreciates when I cook and serve:
To make this more "Shabbos-y" serve on homemade challah rolls.
Nothing says Shabbos more than a hearty bowl of Irish Stew. Seriously on a winter Friday night, this simple dish of beef, carrots, onions, and potatoes warms your insides like no brisket ever can.
KNOCKWURST WITH SAUERKRAUT AND POTATOES
Moving across the globe for inspiration, this traditional German dinner will get a bunch of hoots and hollas when the kids see "hot dogs" on the Shabbos menu. Gets the same reaction as when I tell them pizza (from the local shop) is for dinner—it's the happiest night of the week.
P.S. My saint of a sister-in-law, kollel wife to my (BIG!) Rabbi brother-in-law, is now going on her 17th year without a dishwasher. Even when she lived in New York people would look around her tiny kitchen and ask "do you have a dishwasher?" My fun loving brother- in-law would say "OF COURSE! Her name is Debbie!" Reminding me there is no better person to share these recipes with than her (and YOU! of course!).
You have two chances to comment today. Either tell me your fave one-pot dinner or the most unexpected Shabbos dish you've ever made. Holla at me!!!