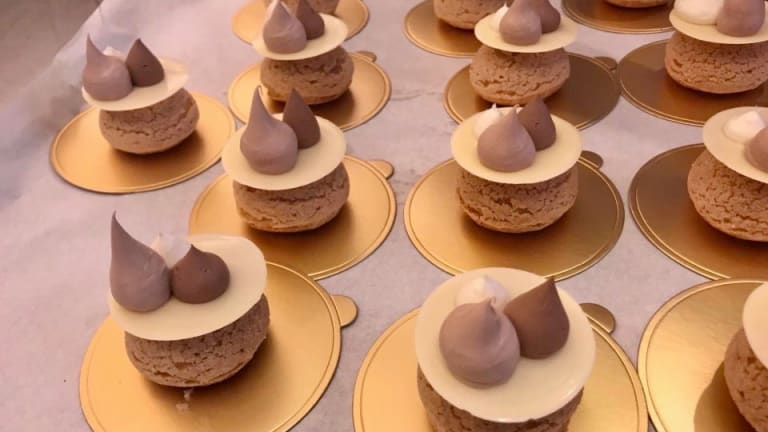 Pastry Workshop at the Hilton Tel Aviv
The Hilton Tel Aviv is now offering Glatt Kosher catering for all celebrations - big (think wedding for everyone you know!) and small (think intimate bris or family sheva brachos).
To celebrate this announcement I was invited to attend an exclusive, hands-on pastry workshop conducted by famed Hilton Tel Aviv Pastry Chef Idan Hadad.
With Tamar in tow, I arrived at the hotel, situated on a cliff, in the heart of Independence Park, Tel Aviv. With a view of the Mediterranean Sea we settled in for a day of sweets like none other.
The seats were filled with about 2 dozen inspiring women - a hand picked group of religious Israeli influencers from the food, fashion and social industries. We all gathered round to actually learned how to make Pastry Chef Idan Hadad's most famous delicacies.
This was no simple feat. We committed the better part of our day and the majority of the ink in our pens to copious note-taking in the workbook provided.
Pastry Chef Idan stood before us for five plus hours and proceeded to demo his signature multi layered desserts like Mango Mousse, Coconut Dacquoise and a Nougat Praline Crunch. He let us taste along the way - each layer, each step. 
I somehow enjoyed each taste as much as the finished creations. Eating his masterpieces deconstructed allowed you to savor each bite and understand what a masterful meringue, perfect Pâte à Choux and gorgeous ganache should actually look, smell, feel and taste like. It was a party for the palate.
After a day of dessert bliss we were all sent packing with a box of Cream Puffs, Bounty Bars and Shortbread Crust Cheesecake for our families. So what if I ate it all on the way home?
While I was thrilled to receive a master class on the love, care, and attention to detail it takes to create his masterpieces it simply reaffirmed that this is exactly why I would want to book my next family celebration at the Hilton - so I can order one of everything in the dessert display case.