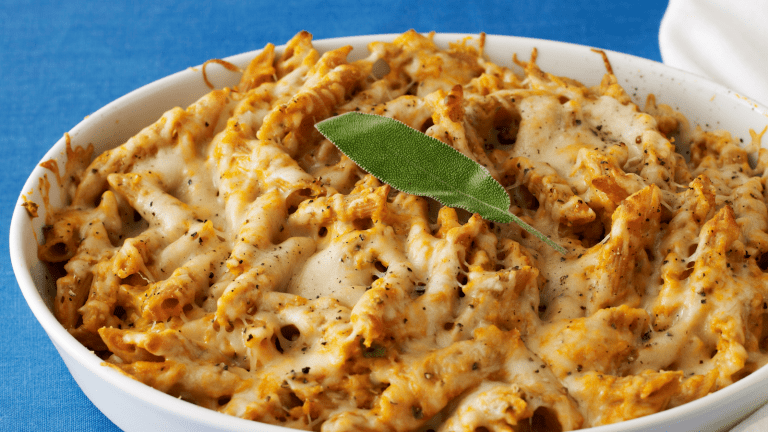 Pumpkin Baked Penne Plus More Savory Pumpkin Recipes
I have six cans of pumpkin puree sitting in my kitchen cabinet. And I must admit that seeing them lined up there gives me piece of mind, relieving the paranoia that sets in every fall. That's when the store shelves are filled with pureed pumpkin for a brief period and everybody who loves pumpkin comes out in droves, clearing every last can till they're impossible to find afterward. Bloggers hit the net, talk show hosts fill the air waves and twitter goes nuts with everyone trying to find out where to get their hands on a can of pumpkin puree.
So I confess to having an obsession. I nearly buy out the entire store when pumpkin is plentiful on the shelf, as though preparing for some dire emergency. I mean, what if the world comes to an end, and I'm stuck with no pumpkin puree in my kitchen? How will we survive?
Hubby and I try to be gracious and not buy out the entire store (of anything); we leave at least one on the shelf should another desperate person follow us. I'm not saying you should stock up on pureed pumpkin as we do, but I do suggest that you make sure to keep a few cans handy. That way, you can create this absolutely indulgent baked pumpkin penne whenever the mood strikes you. This is one of those "reward yourself" recipes with heavy cream, cheese, penne and pumpkin. The perfect indulgent dairy dish to adorn your Chanukah table. Hey, you can always use whole wheat pasta to offset the cream. That's what I do, and I feel better, really, much better.
If you're looking for a healthier version of this pumpkin penne, join our Fresh Families healthy meal plan, where we use pumpkin to make our one pot creamy mac and cheese. 
Check out more ways to use those cans of pumpkin in savory surprising ways. 
Recipes That Use Canned Pumpkin