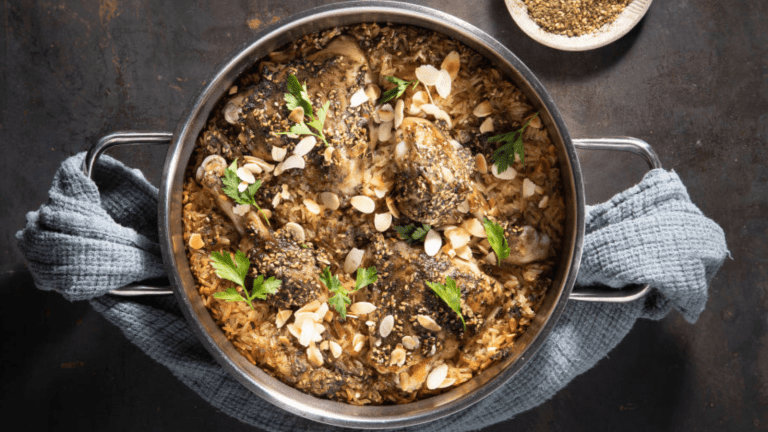 Tampering with Traditional Fare
I sometimes—ok, often—envy my friends whose Hubby's appreciate exotic cuisine and don't mind when they throw "crazy" things like fruit into veggie salads. "Innovative" stuff like that doesn't go over so well in my house. I can prepare it, but Hubby will stare down at the unfamiliar thing on his plate with suspicious distaste. He's a creature of habit, even more so a creature of tradition. Not only does he want to eat the same things, he wants it prepared in the most traditional way.  To him, it's not really Shabbos without classic gefilte fish and chicken soup.  And even when it's 99 degrees outside, steaming hot chulent and potato kugel better be on the menu.
Defending this bias with his favorite phrase "well, that's how I had it growing up …" he will insist on chopped liver, even when there are a dozen other sides on the table.  Garden salad should be served sans dressing, with multiple bottled dressings standing alongside the salad bowl 'cuz, "that's how I had it growing up ..."  (Never mind that when I was growing up, bottles on the table were worse than elbows.)  Even the salad itself should be boring, made with iceberg lettuce.  ICEBERG!  No colorful fruit slices, exotic greens, toasted nuts, or onions of any color except white, in this nostalgic salad of his childhood.
Listen, I will gladly love and honor  Hubby forever, but I go off when he begs for gefilte fish out of a jar, because "……"  You know.  Granted, he prefers my homemade version—as long as it's plated exactly the same way as it was when he was growing up—but those jellied fishballs are his unerring default.  To tell the truth, I developed my own addiction to the taste—especially to the jelly itself—but eventually it seemed just too easy.  My grandmother probably went fishing for the carp herself , or whatever fish you use to make gefilte fish from scratch; how can I just open a jar?  Yet when I was a new bride—and all thumbs in the kitchen—I stocked up on this wondrous stuff, knowing that it could last unrefrigerated in my pantry until our 50th wedding anniversary.  When friends and relatives would come over to our apartment, Hubby would say, "You have to see this," and show off our cupboard filled like an aquarium with jars of gefilte fish.  Go figure.
But ever since I learned to cook, I got restless. More than restless; I got gutsy. I wanted to try new tastes, new ingredients, unusual combinations.  And so now I tamper with tradition.  I love to explore genuine ethnic influences—Thai, Tunisian, Israeli, Iraqi, anything not Brooklyn.
Yes, you (beautiful you!) are my excuse for fussing around with funky foods and world cuisines! Whenever I want to prepare something exciting, I tell Hubby I'm testing for the site, or a new book, or JChef). It's not that he won't eat it: he'll dutifully down the new cuisine with a smile on his face and even say something encouraging, like, "People out there will LOVE this!"  But he's not fooling me.  I know he'd rather be eating a good ol' burger and fries.
So let's have some fun.  Here are recipes that take conventional fare—and add a few surprises!
And a few more favorites...
Fish Bites/Fish Fusilli - Gefilte fish overhauled with feta cheese and fresh thyme.  These two videos show you how to turn it into an appealing dairy finger food for a party, or into a novel Italian dinner.
Fish Bites
Fusilli
The name says it all!  As far from standard kosher cooking as you can get.  Bring it on!
Even someone who's been eating canned tuna every day for 15 years will go for this.  Incredible proteins, and those heart-healthy omega-3's make eating fish a good lifelong habit.  This dish can be the first step to turning your kids on to fresh fish because it's so tasty.  My four-year-old always coos, "Mommy, I love salmon and its soooooo healthy for you."  OK, she's imitating me—maybe even mocking me in her toddler way—but I'll take this kind of nachas any day.
For a special Shabbos treat, try California Avocado Salad. 
Even my conventional Hubby loves this—providing I take out the onions, hearts of palm, tomatoes, and sesame oil.  Ah, now it's just the way he had it when he was growing up ...  But I love the full recipe and it's a huge hit with guests. My old neighbor, Adina Mulbauer, tosses in edamame (Japanese soybeans), which is a genius idea.  She buys them frozen and defrosts them in her microwave before adding them to the mix.
Time to Share
BTW, if you have any recipes for fabulous foolproof classics, I want them—for Hubby, of course. And if you have any funky fresh new dishes, I want them also—for me! Comment below.