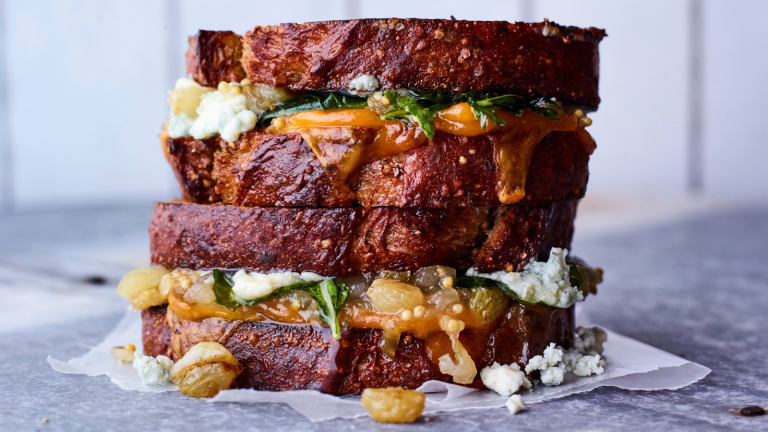 The Indulgence of Grilled Cheese
Back in 2010, before we made aliyah, we lived in New York and I have to say I do not miss the cold.  But sometimes I do miss the snow...  
So we were snowed in during the first blizzard of the season in Rockland County, New York. I have to confess that when I see snow piling up like that, I'm suddenly ten years old again. Something inside me goes, "Gotta get out there!" So I got bundled up with my kiddies and we all went out together. We ran around, reveling in the joy of the first snow, making snow angels, building a snowman and ruining the pristine white blanket of snow with our bold boot tracks. We braved the wind and trekked all over – laughed, got cold, got wet and came inside giggling uncontrollably.
In the kitchen, I turned back into a Mommy and served up hot cocoa with whipped cream and grilled cheese for lunch. We love to see that gooey cheese ooze out when you cut the sandwiches in half. It's so warm and comforting. I'm not sure who enjoyed it more, the kids or me.
One thing I know: Grilled cheese is a no-fuss winter meal that you can throw together easily. You can even let the kids help.
There are so many different ways to make this classic. My Double Grilled Cheese with Seasoned French Fries is a sure way to indulge your need for extra cheesy goodness with the crunch of delicious fries on the side.
I use Colby Jack and Havarti cheese because they are delish, I love them both and I want to tell the whole world about them. So now hear this -- you haven't lived if you haven't tasted Havarti! Such a creamy delight!
Of course, if you don't happen to have those in your fridge, you can use anything you have on hand: American, Cheddar, Mozzarella. If you only have one kind of cheese, just double that.  You can make it extra fancy for the foodies in the group by adding chutney and greens and using blue cheese. 
The trick to amazing grilled cheese is generously buttering the outside of the bread – the butter melts into the bread as it gently browns and toasts in your griddle or pan. Ridiculously delicious.

Worried about all that butter and cheese? Fear not. I have an alternative if you want to indulge without guilt. Light Grilled Cheese with Tomato Chutney and Coleslaw will totally tickle your taste buds, feed the craving, and leave you feeling satiated and happy. This one is made with whole wheat bread and reduced fat cheese. Add avocado slices and tomato chutney and you've got a stacked and satisfying sandwich. This recipe even uses cooking spray instead of butter.
For a healthier grilled cheese that mimics the classic original but uses less butter with maximum flavor, join our Fresh Families healthy meal plan. 
Now is time for show and tell: How do you make your grilled cheese? Do you use a special frying pan? A griddle? Or have you bought one of those Panini makers?
And what cheese do you like? American, Cheddar, Pepper Jack, or something else?
Tag you're it, leave a comment and let me know.