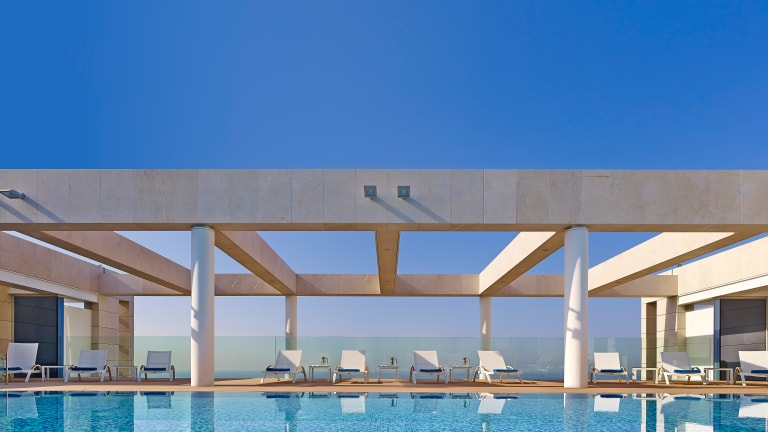 The Ritz Carlton in Israel Is The Place For a Truly Relaxing Vacation
I always return from a family trip saying the same thing... "I need a vacation."  But last week while packing up the kids to come home from The Ritz Carlton Herzliya I cried... "I don't want to leave."
An affluent suburb 15 minutes north of Tel Aviv, Herzliya is home to clean beaches, a magical marina and slew of sea front cafes and restaurants.
We reported bright eyed and bushy tailed Monday morning for a week of family fun.  It turned out to be a week that recharged our spiritual, physical and emotional batteries - the kind of recharge only a waterfront resort can provide.  
In the mornings I prayed from my private balcony (every room has one!) overlooking the mesmerizing Mediterranean Sea. 
At night we tucked in the kids (yay for built-in babysitters) and went to the famed Herbert Samuel restaurant (in the hotel lobby) well known as a world-class, seasonal, fine-dining establishment.
At 7am we hit the 12th floor, outdoor, rooftop swimming pool (surrounded by breathtaking ocean views!) for a private family swim session before breakfast.
Days were filled with sailing and beach"ing" as I opted to skip the spa this time around.  I had just gone not too long ago with my momma and so really wanted to focus on the kiddies this trip.
So instead, to relax, we hit up the Ritz Kids club a few times when we needed some indoor, down-time for my younger ones.
I really, really love the variety of suites - so conducive to family vacations. Especially over the holidays when you might want a kitchenette, dinging area or couch to chill.
If you book for Sukkos you'll have a front row seat to the sun rising and setting over the Mediterranean Sea.  You won't need another vacation after this one, I promise.