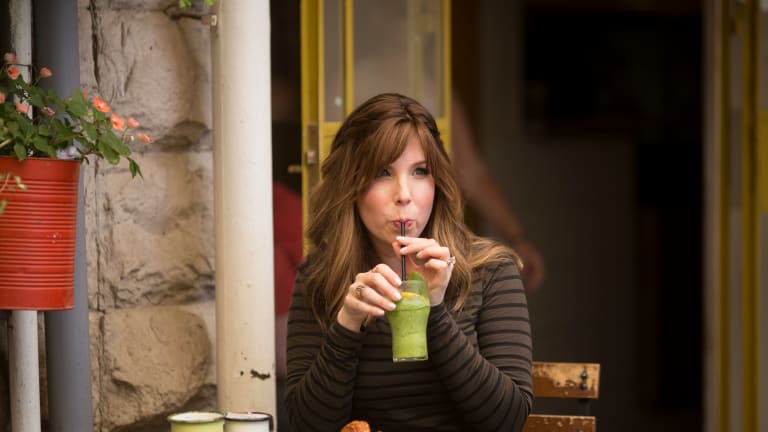 What I Eat In A Day - July
I love that we get to "chat" and that I have the honor and opportunity to share my most beautiful, most delicious, most inspired and inspiring, palate-pleasing recipes with you, on the regular. But one of my favorite things about Instagram and Facebook Stories - is the unpolished, un-propped, un-lit, raw look at my life. So just in case you're not following me on social (WHAT?!??! WHY NOT?!?!) I'm posting this article for a real, unfiltered window into a day in the life of my cravings.
Breakfast
It sounds kinda hippie-dippie and "granola-y" but it's just one of those sinful recipes made less sinful from our Fresh Families meal plan that I can't get outta my head. Whether I am "behaving" or not, there is something so right about these for breakfast.
Lunch
Not really a recipe. More like leftovers made right. I'm calling this my Leftover Quinoa Lunch Bowl.
It all starts with a bed of quinoa.
Followed by some toasted walnuts. 
Topped with whatever fresh veg I have around and then tossed with either pesto or scallion sauce - whichever I have handy. 
Sooooooo super satisfying, especially in the summer heat.
If you want an exact recipe with full nutrition information join our Fresh Families Meal Plan. 
Afternoon Pick Me Up
When you order an "ice cafe" in Israel you are essentially ordering a coffee flavored slushy that's closer to a milkshake than it is to an iced coffee. I have a sweet tooth something awful and I love me an ice cafe (or two) to pieces. Love it so much I dream about it. Dreamt about it so much I recreated it. This way I can feed my craving from home, in my slippers. I will sometimes have this for breakfast and sometimes for a snack. Never for both, unless I'm really celebrating something.
DOWN & DIRTY ISRAELI ICE "CAFE" RECIPE
INGREDIENTS
Almond Milk Ice Cubes
Cold Brew or Strong Brewed Coffee
Silan (date honey)
PREP
Blend
Pour
More Silan
Sip (or Spoon)!
Dinner
My grandparents always made Romanian Pizza for me in their little dairy toaster oven when I'd come over for lunch. They served this hot pocket, which is essentially a super elegant white calzone, with a side of cool cucumber salad, of course homemade, from the cucumbers they grew in their inner-city garden. 
Hubby and some of the kiddies palates are not as sophisticated as mine (yup I can be a bit snobby when it comes to food) and so I made them straight up pizza calzones cause I don't want any whining while I enjoy my Romanian Pizza allowing my mind to wander back in time.
Your turn.
What are you eating today???