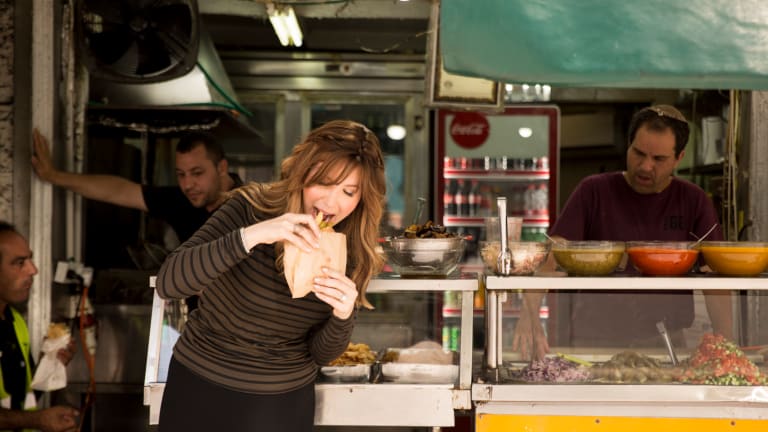 What I Eat In a Day
I go to bed dreaming about breakfast. Am I the only one? (Say it aint so!)
People are always wondering how we eat in this house. Saying things to my kids like "you're so lucky" "bet you have gourmet dinners every night" and the like.
Truth be told, my kids (just like the rest of us) live for pizza night and love bringing plain bread to school. PLAIN bread! I just can't get used to that. But when the bread is soft and squishy, like a pillowy cloud that's how they like it. Plain.
But when I focus on making dinners that excite the entire family , that make us want to sit around the table eating and schmoozing (pretending like there's no homework or official bedtime), then the kids eat good, healthier-than-pizza food. All of them. And then they want dinner leftovers for lunch. That's what happens when I cook from our Fresh Families meal plan.
So, for all you inquiring minds…. here's how we eat in a day. (Inspired by our Fresh Families Meal Plan, which keeps me full, well fed and creative in the kitchen).
Follow along as I make and eat all these foods on Instagram stories today. 
BREAKFAST
Shake it Up
We are smoothie obsessed.
Sometimes Red
And Sometimes Green
It's important to mix it up and eat the rainbow. Or at least that's what Tamar says.
And when I wake up really famished I'll also have Israeli PB & J or any of these 5 delicious breakfast toasts.
LUNCH
Savory Yogurt Bowl, cause YUM!
SNACKIN'
Chickpea "Popcorn" because Chickpea "Crack" is not at all an appropriate thing for a lady like me to say.
I make extra to have for tomorrow's Chickpea Pita Pocket Lunch.
DINNER
When I get Hubby to agree to eat a fish other than tuna out of a can I make Salmon for din din.
When I want zero protesting it's this winner winner chicken dinner.
ROASTED CHICKEN, SPRING ONIONS, AND SHIITAKE MUSHROOMS
Which leads me to the point of all this!
These recipes are from our Fresh Families meal plan. And they are just downright awesome. We (as in Tamar, but I'll use the royal "we" because after almost a decade of working together, there is almost no separation) put a TON of time, energy and creative juices into creating this resource.
The recipes are the everyday stuff that your entire family will love. Unless they only like tuna outta a can (HUBBY!!!) Please feel free to text, whats app, email, DM, PM, IM or dare I say call someone you think is a prime candidate for this plan.
If you or someone you dearly love could benefit from dietitian created meal plans, with a personal custom menu planning tool, and nutritional breakdowns, plus weekly shopping lists, featuring everyday recipes that are kid-approved (even picky Hubbys will be happy!), plus snacks, desserts and shabbat and holiday menus, then share. Because sharing is caring.
If you don't believe me about DESSERTS….
Try these 2 ingredient chocolate tahini truffles on for size.
What did you eat today?