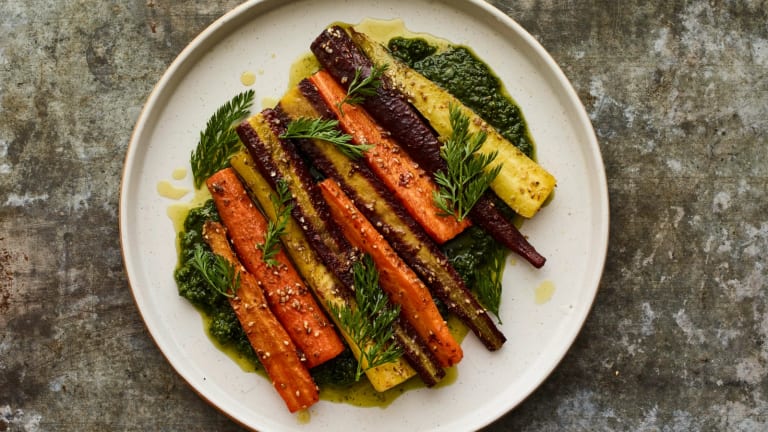 What is Modern Israeli Food?
Eating a meal in Israel is not just eating a meal. Every meal is a reflection of the world. Each bite is composed of cultures and history, land and people. Thousands of years of battles, and different religions pepper each mouthful.
Don't miss seeing how I like to eat falafel...

At the heart of the cuisine are simple ingredients with big flavors, artfully prepared. Sunny flavors that explode in your mouth and from a country that has seen more than its share of less than sunny days.
The food and the menus in restaurants have a certain feel, almost like a beat or a rhythm. It is sophisticated, modern and classic all at the same time. Laid back and cool.

Often people don't think about the agriculture of Israel. The farmers and the land are a big part of the food. Israeli chefs and home cooks are really in touch with eating locally. That is something the rest of the world is just figuring out, locavorism. It is just a part of life in Israel.
I learned a bit about Israeli agriculture in the desert at The Salad Trail...
Jerusalem is home to the largest marketplace in the Middle East. Machane Yehuda Market or shuk (market) is one of the most popular sites for tourists and locals. The Shuk is part farmer's market, food court, art gallery, street festival, spice merchants and wine tasting extravaganza. The flavors of the Middle East can all be found in this colorful bazaar. Foods from the iconic falafel and shawarma to a more modern wasabi ice cream and craft beers can all be tasted and enjoyed as the shuk weaves together the ancient and modern tapestry of Israel.
See some of my favorite things at the Shuk...
Israeli wines are one of Israel's tastiest and world class exports. While Israel has been making wine since biblical times it is the modern Israeli viticulture that is making waves in the wine world. A thriving industry in several regions, boutique wineries and large scale producers take advantage of the microclimates throughout the country.
Visiting the unique Morad Winery in Northern Israel...


Restaurants are plentiful throughout the country. From simple to exotic, Israeli restaurants deliver delicious iconic favorites such as falafel and schnitzels to extraordinary Yemenite dishes. It would be impossible to not take note of the explosion of Israeli flavors on many restaurant menus around the world. Israeli chefs are masters of taking classic flavors and retooling them with modern ingredients and riffs on global flavors.
Follow along right here as we delve deeper into the foods of Israel with new recipes and videos of all your old and new favorite Israeli foods.