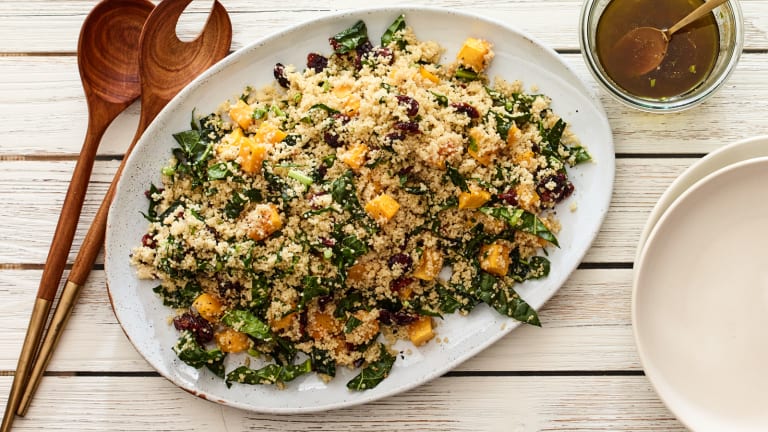 1 (3-ingredient) Dressing for 5 (3-ingredient) Salads
I've been travelling quite a lot lately. And so I've been "dining" at the airport more times than I can count. As a frequent flyer I get to frequent the airport lounge (and I get like 50 passes for guests so let me know if you want in :-). 
The food in the Ben Gurion lounge is great and I am always sharing the spread and my plate on instagram. The food at JFK... not so great and so I usually bring along a snack. Last time it was an outta-control wrap from Chop & Chill but this time I was racing to the airport and didn't have time to grab anything of substance.
You see, my day started in Tampa for a TV spot followed by a race track style drive to Orlando to catch a plane to NY, which thank G-d I made with less than 10 minutes to spare. After crawling through security at JFK I had about 10 minutes in the lounge before sprinting to the gate. I only stopped in the lounge because I was starved beyond and I have this thing against eating plane food.
As it turns out, 10 minutes was enough time to do a lot of damage. I saw some new salads in the display case and decided to try them all. Then proceeded to love them all, take picts of them all and quickly jot down recipe notes for them all. I determined that all 5 salads were indeed dressed with the same single dressing. What a commercial kitchen genius move! Because the ingredients in each salad were so varied they all worked well together on a plate without feeling at all boring or repetitive.
When I make salads for shabbos, a holiday or party it's undoubtedly the most time consuming of all my meal prep. Each salad with it's own signature dressing is comprised of a laundry list of ingredients that require washing, checking, peeling, chopping, cutting, slicing, dicing, mincing and it's simply (in a word) exhausting. My sister-in-law Chanie and I are always talking about how we can make a 3 course meal in the time it takes to put together a proper array of salads.
So this new genius salad course hack is stolen straight from a commercial kitchen and modified for your home kitchen. Perfect for when you want to present a full spread of fresh salads for your family -- fast. 
All the recipes:
3-INGREDIENT MIDDLE EASTERN SALAD DRESSING
3-INGREDIENT WHEAT BERRY SALAD