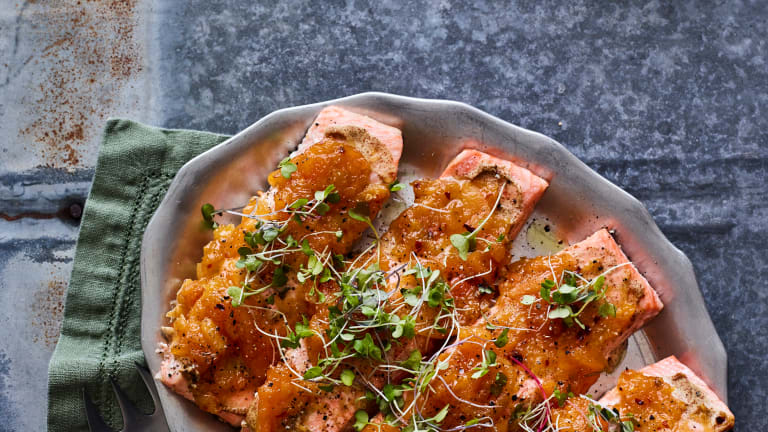 1-HOUR, PRE-PASSOVER SHABBAT MENU
Preparing Shabbat the week before Passover, in the midst of all the cooking and spring cleaning can be overwhelming. This strategy for this weeks Shabbat menu is to keep things simple, offer up fresh, easy-to-prep dishes that can be prepared in an hour.
GAME PLAN:
1. Focus on fresh ingredients and dishes you can rely on putting together before the meal. So, skip the cholent this week and make a fresh deli wraps. 
2. Keep your menu minimal and simple. No need for a three course plus dessert Shabbat menu this week. Start Friday night with a soup, main course and simple salad. Shabbat day, serve up roasted salmon, and deli roll pinwheels with chopped salad for second course. 
3. Raid your pantry for dessert. Platter up cookies, candy and chips and have your family assist in cleaning out your pantry.  You can also make chocolate bark using up cookies and candy and mixing in into the chocolate. 
4. Start by baking off the chicken, moving on to the soup portion and then baking off the salmon. You can make the fruit salad and deli roll pinwheels on Friday or before the meal. 
5-minute prep. 8-minute cook time. A thirteen minute soup from start to finish is perfect for this weeks menu. 
BRAISED CHICKEN WITH STEWY CHICKPEAS
When in a rush, it is great to lean on recipes that give you two dishes in one. This braised chicken dish comes with delicious, stewy chickpeas and vegetables. 
In place of making your own apricot chutney like the recipe states, smother the salmon in good quality jarred apricot preserves and bake according to recipe instructions. Serve along with challah and store bought hummus. 
DELI ROLL PINWHEELS WITH CHOPPED SALAD
The great thing about this recipe is that you can do is Shabbat morning and do not have to even count this as part of your Friday Shabbat prep. 
You can customize add-ins based on what you have in your pantry.