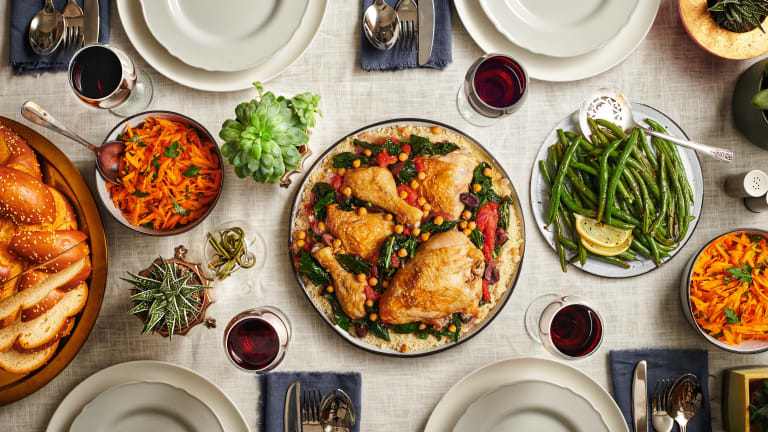 1 Hour Shabbat Menu Israeli Style
I'm about to blow your mind.  You CAN make your Shabbos dinner in only an hour.  In 1 HOUR!
I'm talking a salad, main, side, and dessert.   In 1 hour!
The clock is ticking, so we need to start!
The key to making this work is multitasking. Watch how I do it above and then get the recipes below. 
Serve this as a starter along with challah, hummus and fish or as a side salad along with the main.
BRAISED CHICKEN WITH STEWY CHICKPEAS AND COUSCOUS
This is the ultimate one pot wonder of a meal. If you have a gorgeous oven to table baking dish you can save washing a platter! Pour boiling water over instant couscous to round out the course.
End your meal with a no bake Israeli pudding, Malabi.  Set out a bunch of toppings and let everyone make it their own. 
GAME PLAN
Preheat oven, prep chicken and place in oven.   
While chicken is cooking, prepare the stewy chickpeas, tomatoes and kale. 
Pour boiling water over couscous. 
Prepare the Israeli Carrot Salad. 
Add stewy chickpea and kale mixture to the chicken and return to oven to complete cooking. 
Prepare malabi.