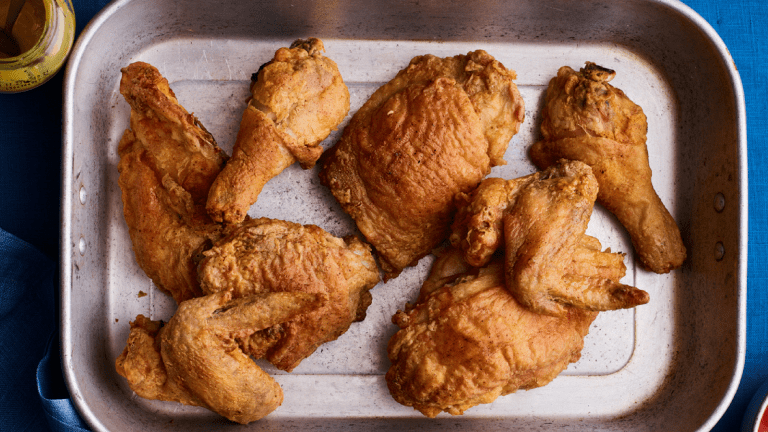 10 Chicken Recipes That Reheat Well
It's always a challenge to find recipes that won't be dry and tasteless by the time everyone comes back from Shul on Friday night.   Chicken being the most budget-friendly main can easily dry out, but there are some recipes that hold up better than others.  
In general saucy chickens with or without the bones can stay pretty moist as long as they don't lose their liquid, so add a little extra and don't let it heat at too high a temperature.  
Breaded, fried or baked, chicken usually does pretty well too, the coating helps lock in the moisture and it is still very good if you have to serve at room temperature.   
Here are 10 chicken recipes you can make ahead that would be perfect for Friday night or any weekday dinner.
Tajine is a type of pot and also refers to a type of cooking in Morocco.  Chicken tajines are affordable and sit well as they slowly cook with vegetables and lots of spices. 
Ever tried kosher chicken meatballs in a stew? Worth it!!
Stuff your kosher chicken breast, bread it and bake it, love it. 
Layer lots of veggies and brown the chicken then cook low and low until ready to eat. 
Magluba (1 pot meat)
Magluba is a rice and chicken dish that gets turned upside down, one pot meal with tons of flavor. 
Fried chicken sits so well and is even great cold. 
Chicken with Prunes and Apple Butter Sauce
Coat your chicken with sticky yummy sweet sauce. 
Breaded and baked with pecans adds the perfect nutty flavor. 
Jamie's Speedy Coq Au Vin (a juicy chicken perfect for a late friday night)
It is basically a fancy chicken and wine - but shockingly easy. 
Herb and Pumpkin Seed Drumsticks
More ways to coat your chicken, try pumpkin seeds.