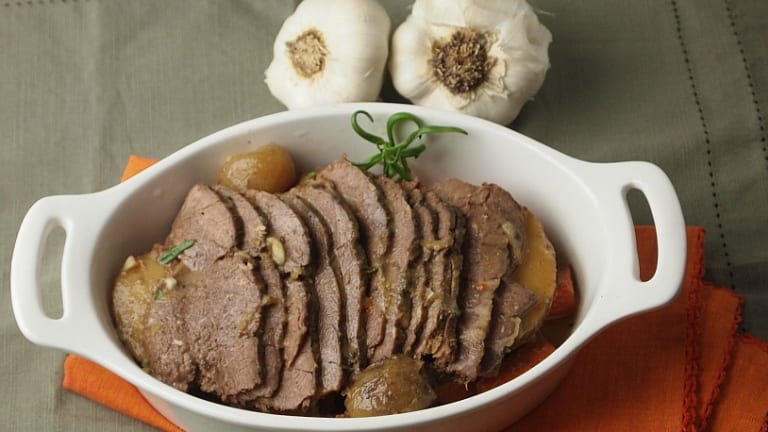 Passover Seder Recipes
It feels like Passover is just around the corner and it actually is!  
Everybody's talking about Pesach (Passover) preparations, whether it's cleaning, menu planning, or if they will be able to have or be guests this year.  Last year was the year of the Passover Seder for Two, hopefully, for most people this year can at least be a little more inclusive. 
So that means seder menu planning. If you're looking for a full Passover meal plan with recipes for breakfast, lunch, dinner, and snacks throughout all of Passover sign up for our new meal planning app.     
Here we have Passover seder recipe ideas for every diet. 
VEGETARIAN
In terms of vegetarian mains, try a small plates concept.  This way the vegetarians can get their fill but everyone else can enjoy them as sides.  Maintain a flavor profile across the dishes, but don't feel at all limited to using the same vegetables.  Keep it savory with Veggie Liver Stuffed Mushrooms, Eggplant Tomato Stacks, Pico De Gallo Quinoa Stuffed Avocados, and Moroccan Carrots or for a larger dish try Potato Crusted Quiche. 
FISH
Many people like to have a fish course for every holiday meal, but you can also consider fish for the main course, especially with these long late nights, something lighter might go down easier. We like these elegant fish recipes, such as Nut Crusted Salmon with Creamy Chrain Sauce, Ceviche with Pickled Beets and Creamy Avocado, Salmon Roulade or Steamed Cod and Sundried Tomato, Olive Tapenade.
MEAT
Passover can be a nostalgic time for many, leading us to expect and look forward to the same dishes year after year.  It is also a time when religious dietary restrictions or community customs are more prominent than ever.  If an old-fashioned brisket or maybe an entire lamb is your traditional seder main, we've got you covered.
For the meat lovers, there is the fail-proof Brisket in a Pot with Garlic or Red Wine Top of the Rib.
If lamb is your tradition, try the Lamb Stew with Apricots Pear and Mint or Shredded Lamb with Tomato and Basil (the recipe says to serve over rice, ignore if you don't eat kitniyot).
For the poultry people out there, try Orange Chicken Thighs with Beets and Sweets, Coq Au Vin or Duck Sauce Chicken (Gold's Duck Sauce is kosher for Passover!).
Check out more Passover recipes here!