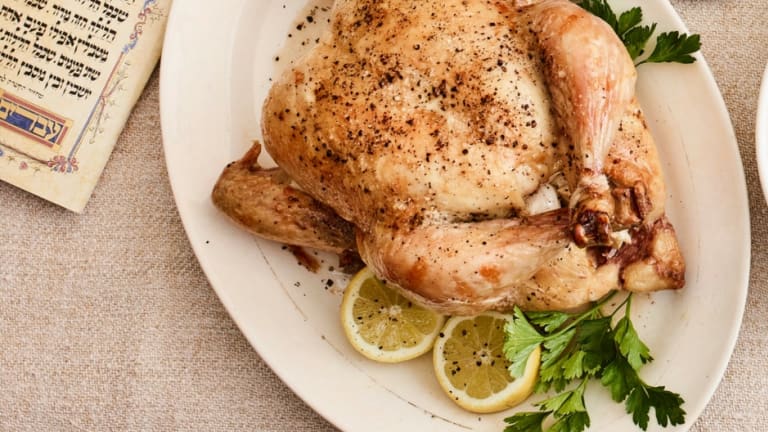 15 Healthy Passover Chicken Recipes
Passover would probably not be at the top of the list of healthiest Jewish holidays, the most popular recipes on our site for Passover are the desserts.  There is so much nostalgia over traditional Passover foods that it is easy to carried away with all the matzo, butter, brisket, kugel, and chocolate.  
So when we are choosing our Kosher for Passover chicken recipes we suggest keeping it light and healthy, ideally with lots of veggies on the side. 
Here are some of our favorite healthy chicken recipes that happen to be Kosher for Passover or are easily adapted with our notes below. 
1. Orange Chicken Thighs with Beets and Sweets
This refreshing chicken recipe is perfect for a spring holiday.  After some initial vegetable peeling, this meal practically cooks itself.
On Pesach, we all appreciate recipes with few ingredients and maximum flavor.  Better yet this meal is totally hands-off, put the chicken in the oven to slow cook for two hours and return to a fragrant kitchen and a delicious dinner.
3.  Chicken with Zucchini and Wine Stuffing
This is a great dish for the seder!  While you're running around making last minute preparations erev Pesach, leave this on stove and rest assured that this chicken is simmering to perfection.
4.  Chicken with Olives, Tomatoes, and Onions
Another wonderful option during a seder, this chicken recipe is reminiscent of Mediterranean flavors which will delight your guests.  Plus, this is a perfect recipe to repurpose for lunch the next day.
The aromatic combination of dates, orange juice, and spices compose this sweet and savory chicken dish. 
The flavors of the tomatoes and zucchinis pair richly with the chicken, the vegetables complement this dish so well you won't need much else.
7.  Passover Seder Lemon Wine Poached Chicken
Lemons and wine are a classic, crowd-pleasing combination.  The flavors enhance the delicate flavors of the chicken.
8.  Lemon Rosemary Roast Chicken and Potatoes:
Yet another recipe to demonstrate the power of lemon in a chicken dish.  Rosemary, lemon, garlic, and white wine are the star ingredients of this delicious dish.
9.  Grilled Chicken Legs with Peach Salsa
Spring is around the corner, so we can start thinking of bringing our cooking and dining outside. 
10.  Classic Jewish Deli Chicken Salad:
A great way to repurpose leftover chicken, serve the chicken salad with sides or on top of a hearty green salad.
11.  Roasted Chicken in a Dry Spice Rub
This is a roast chicken that is not at all lacking in flavor.  Alter the dry rub as needed, if you can't find certain spices that are kosher for Passover simply double up on the ones you do have.
12.  Chicken and Veggie Skewers
These are very kid-friendly and a great way to spread a small amount of chicken into a satisfying meal.  You can switch things up by customizing each persons' skewer with the vegetables of their choice.
13. Grilled Mango Chicken Salad
Another great Passover lunch recipe, this salad has a very simple dressing and refreshing ingredients.
14. Kishke Stuffed Orange Chicken
A modern take on a classic Jewish ingredient, your guests will be impressed and surprised by the combination of kishke and citrus in this delicious chicken dish.
It wouldn't be Passover without a classic, roasted chicken dish.  Whether it's served at the seders or during chol ha'moed, this dish evokes comforting memories of tradition.