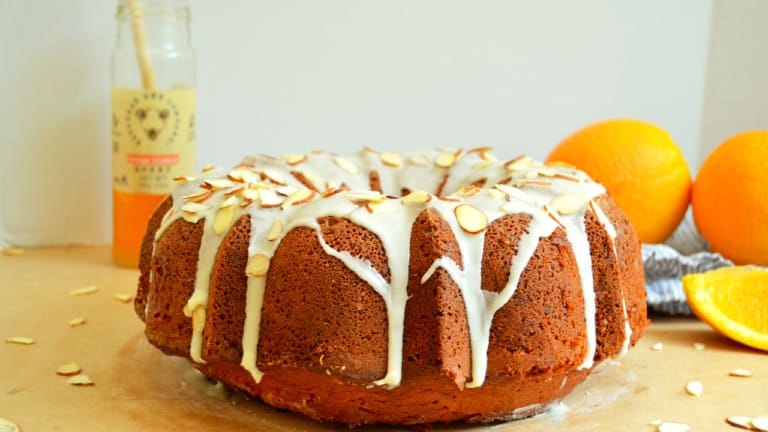 18 Ways Honey Makes Every Recipe Better

We all know honey makes things sweeter and is one of the symbols of the Rosh Hashanah holiday to symbolize the beginning of a sweet new year.  
There is much more to know about honey and not all honey is created equal. Rosh Hashanah is the best time to explore the wonders of honey for cooking and eating by the spoonful. 
Here are 18 honey recipes for Rosh Hashanah that also showcase the many ways honey can be used in your cooking. 
We also explore many varieties of honey in these dishes, but I highly recommend picking up a few from Savannah Bee for a fun honey tasting this year. 
Tupelo honey is the gold standard by which all other honeys are measured.  Use this dressing simply over a salad, as a vegetable dip or a marinade for chicken. 
Carrot Apple Slaw with Acacia Honey and Orange Juice
Acacia honey offers a clean, light vanilla taste and is made from the delicate blossoms of the Acacia tree.  The flavor complements the carrots and apple in this slaw, but the dressing can be used on any salad as well. 
Citrus Salad with Beets, Candied Kumquat andTangerine Honey Vinaigrette (goat cheese optional)
Any premium honey will work in this salad that has layers of flavor. 
Corn and Honey Blinis with Kosher Caviar
Mini corn cakes kissed with honey offer the perfect base for a fancy first course serving of caviar.  
Honey Tuna Tartare with Honey Sesame Chips
Honey is used in this recipe to flavor the tuna and the chips.  Thin and crisp the chips are wonerful snack.
Tupelo Honey Mustard and Panko Salmon
Try this salmon as an entree or make them bite size pieces and serve as a first course. 
Honey is a common ingredient in Asian stir frys providing a sweet taste and sticky texture. 
Add a little sweetnesses and glaze to your roasted veggies. 
Roasted pumpkin screams for a little honey drizzle. 
Stuffed and breaded and drizzled with honey, the chicken cutlets can be made ahead and even freeze well. 
Grill Honey and Porter Glazed Chicken Kebabs
Grill it and put it on a stick, it is automatically a winner.  The Grill honey is specially suited to withstand high temperatures. 
Sweet and spice is always a great pairing and the honey locks in those spicy flavors.
Honey coats the brisket and keeps it moist.
Herbed Meatloaf with Honey Glaze
Glaze it!
Orange blossom honey explodes with bold sweetness and a subtle citrus flavor, it makes the best Rosh Hashanah Honey Cake!!  Use it in your favorite recipe or try this one made with rye flour for extra complexity. 
Honey Roasted Sweet Potato Stuffed Apples
These can be a side dish or a sweet and savory dessert.  Love the way these roasted apples look on a plate. 
Mini Ginger Pear Cakes with Honey Brandied Figs
Soak those figs in brandy for amazing flavor and try it with a pear cake. 
Savannah Honey and Apple Rosettes
These are so gorgeous, but actually easy to make!! Give them a try. 
Want stories like this delivered straight to your inbox? Sign up now for the Joy of Kosher weekly newsletter. 
{This post was sponsored by Savannah Bee Company. All content and ideas are my own. Thanks for supporting these sponsors that allow us to continue to create new and special content for you.}