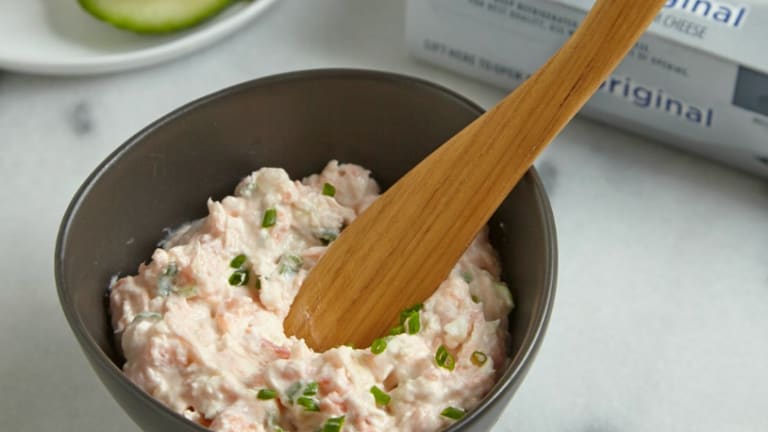 18 Wheat Free Passover Recipes

With a little help from our go to Passover ingredient, Philadelphia® Cream Cheese, we make sure you don't miss out on flavor and variety with these delicious wheat free Passover recipes.

Think after school snack, fancy hors-d'oeuvre, or late night snack. This dip does it all!
The smokiness offers a splash of flavor that can do much more than breakfast duty.
Enjoy a lighter, creamy Alfredo sauce over low calorie zucchini. Click here to watch how easy it is to make this amazing recipe.
This looks fancy, but it is actually quite easy to make. Don't forget to keep some extra crispy potatoes on the side so you have some to snack on while your Torta is cooking.
Cheesecake Ice Cream with Crumbled Macaroons
Enjoy this cream cheese ice cream with little bits of macaroon mixed in. A new Passover tradition!

Chocolate Orange Coeur a la Creme Cheesecake with Cherry Compote
A naturally wheat-free no bake cheesecake flavored with chocolate and topped with cherries.  WATCH and learn to make it.
The best spaghetti on Passover is spaghetti squash!
Passover Crepes with Cream Cheese and Smoked Salmon
Savor and serve these crepes any time of day, wheat-free and quick to make.
Twice baked is twice as good!
An egg-celent way to start the day!
Chocolate Marshmallow Haystacks
Marshmallows, coconut, cream cheese and chocolate make for a sweet Passover treat.
Ginger Cream Meringue Sandwiches
Meringue is marvelous on Passover! Naturally wheat-free!
Once you grill the zucchini, lunch or dinner is a snap.
This pumpkin flan is gorgeous in color and delicious in flavor. So easy, too!
Dress up your carrot side dish with some herbs and a creamy cheese sauce.
Like a chile relleno, but instead of stuffing, we slice it and slather it.
Asparagus soup is a wonderful springtime recipe, flavored with cream cheese for just the right amount of creaminess.
Spectacular salmon curry in a hurry!
We've created tons of new Passover recipes featuring Philadelphia® Cream Cheese as part of our new partnership, see them all at JoyofKosher.com/Philadelphia.