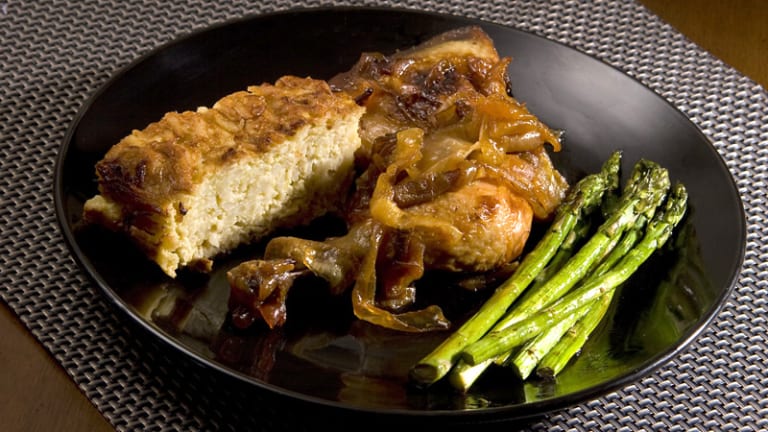 2 Shabbat Meals in 2 1/2 Hours
Observing Shabbat is like making Thanksgiving dinner every week.  While most Americans plan for weeks in advance for one big feast, we cook up a storm to celebrate Shabbat with food, family and friends. 
It doesn't have to take weeks of planning and you don't have to make the same recipes every week either.  This week we have 2 Shabbat menus, Shabbat dinner and Shabbat lunch that you can prepare in less than 3 hours.  That includes prep and cook time.  
Here's your step by step guide to making this Shabbat your fastest and one of your best.  
Shabbat Dinner Menu
First course
Pickled Salmon
Cauliflower Salad
Israeli Salad with Basil
Fire Roasted Eggplant Salad
Second course
Third course
Caramelized Onion Chicken
Potato Kugel
Roasted Asparagus
Dessert
Apple Crisp
Vanilla Ice Cream
Shabbat Day Menu
First course
Garden Salad with Balsamic Vinaigrette
Tomato Sauce Gefilte Fish
Fire Roasted Eggplant Salad
Second Course
Dessert
Click here for the Shopping List.
Now, how to get it done!!!  Here is a timeline to get Shabbat done in less than 3 hours. Does anyone else feel like they are on Top Chef?
Start by preheating oven to 350°F. 
Make chicken, place in oven.
Prepare soup, place on the stovetop to boil.
Prepare gefilte fish.
Bring soup to simmer, cover the soup.
Prepare pickled salmon.
Roast eggplant according to recipe directions and set aside.
Make potato kugel.
Make deli roll pockets.
Make apple cobbler.
Place asparagus in the oven.
Prepare salad dressings.
Make Napoleon.
Mix eggplant salad.
Make cauliflower salad.
Place all cholent ingredients in crock pot according to recipe directions.
....Hand's up, you did it and there is still time for a shower.