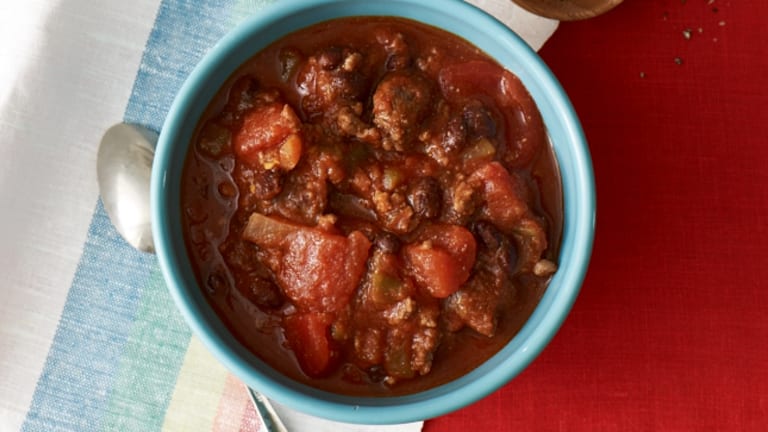 2 Super Bowl Menus: Bengals VS Rams
It's official, the Cincinnati Bengals will play the Los Angeles Rams vying for the Super Bowl title on Feb 13, 2022.  
The 56th Super Bowl will take place in Los Angeles and we are offering you 2 menus so you can show your support for your favorite team. 
Let us know, are you on Team Bengals or Team Rams?
If you're not partial to either team, then you can simply go ahead and vote for your favorite menu. 
Let us know in the comments below which MENU you prefer so we can determine the winner!
BENGALS MENU: Cincinnati is known for chili and chili is the best super bowl food, so this one's a no brainer. But it's not Tex-Mex. It's a thinner, soupy concoction with Mediterranean spiced beef in a spicy sauce.  It is then served over hot dogs (like a chili dog, but they call it a Coney) or over spaghetti and mounded with cheese or onions & beans.  To keep it kosher we're going with onions and beans, but feel free to add vegan cheese.
Make a big pot of spaghetti and roast up some hot dogs.  Dice some white onion and rinse a can of red kidney beans.  Set up a buffet with hot dogs on buns and spaghetti at the beginning and let everyone ladle their chili the way they want.  Adding onions and beans, vegan cheese, and/or mustard, and oyster crackers if they desire. 
Serve with some  and let everyone try the Cincinnati chili the way they want. 
The perfect way to end this meal would be the famous Cincinnati Graeters ice cream but since those are dairy we suggest making your own!
Mint Cookie Ice Cream with Chocolate Ganache and Chopped Cookies
If you don't want to make the dairy free ice cream, go ahead and buy some, let everyone make their own sundaes with cookies and ganache. 
Or serve these Buckeyes, famous candy from Ohio, but these are made with Almond butter for a change.
RAMS MENU: The Rams are from LA so this menu is all Californian cuisine. 
We start this California meal with a dressed up salad, complete with tofu and blue cheese or go with a California Roll Salad. 
Make it easier than rolling up all that sushi and serve it deconstructed.  
These tapenade toasts are the perfect pass around during the game. 
Salmon burgers keep this dairy, light meal perfect for a party. 
And a side of zucchini fritters. Yum!
California Walnut Streusel Pie
This dish is a yummy dessert using California walnuts. Serve with your favorite vanilla ice cream.