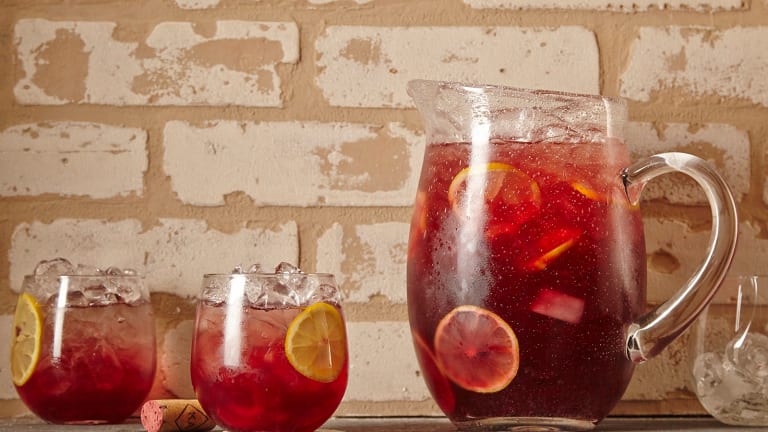 14 Days Until Passover: 2 Ways to Enjoy Shiraz
Passover is one of those holidays when you really need to be organized. No matter how far in advance you start your preparations, it feels like there will never be enough time to get everything accomplished. Shopping, cleaning, changing dishes, shopping some more, cooking, preparing for house guests, shopping yet again for those items you missed on the first two go-rounds, cooking some more...the end of the prep and the beginning of the chag always seem elusive. What's a balabusta to do?!?
Well, short of being the truly "zen" hostess I can only dream of being, I have come to realize that efficiency may be the key to saving my sanity around this time of the year (and allowing me to actually enjoy the results of all the hard work). With that in mind, here is a recipe for a savory punch that, with only a few tweaks, can double as the poaching liquid for an elegant poached pear dessert at another meal during the holiday. Efficient, yes, and delicious as well! Wishing everyone a happy and kosher Pesach.
A shrub is a "drinking vinegar" and is sometimes described as a first cousin to the punch. Adding vinegar to the wine and fruit juice here lends a subtle "tang" to the drink.
MORE: A Fruit Wine Boutique in Israel
These Punched Up Poached Pears are an elegant and easy dessert, infused with Shiraz punch, cinnamon, and sugar.  
Recipes published in JOY of KOSHER with Jamie Geller Magazine Spring 2015 SUBSCRIBE NOW
Want stories like this delivered right to your inbox? Sign up now for our *free* JOY of KOSHER Newsletter.