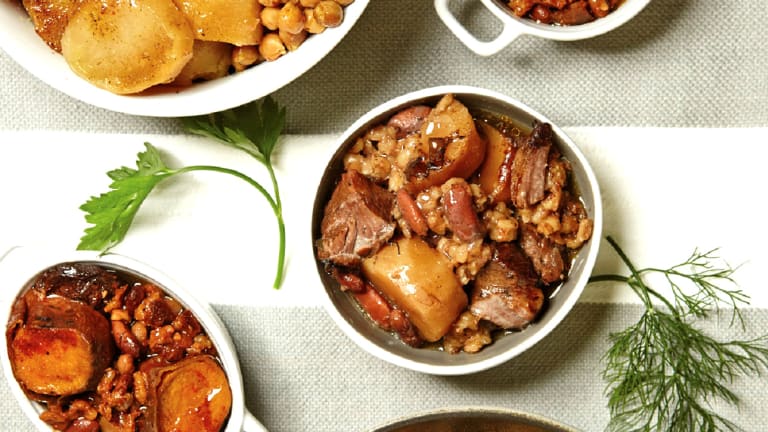 3 Ways to Spice Up Your Cholent
No matter where you go in the Jewish world, you will always find a version of cholent unique with tradition and heritage. 
Cholent is a traditional Jewish stew that is commonly made in a slow cooker or simmered for hours in the oven to be enjoyed on Shabbat day without any additional cooking. There are many different names for this Shabbat stew, including the traditional Ashkenazi cholent, a Sephardi version called hamin and a Moroccan cholent known as dafina. Typically, these stews use a combination of beef or chicken, beans, onions, and potatoes; however the similarities truly end there. Each recipe is derived from a unique culture and region, with flavors evoking centuries of history, memories, and stories.
For those of you who don't eat meat or want to serve your cholent at a dairy meal, this vegetarian cholent is the way to go. Unlike a traditional vegetarian bean soup or stew, this cholent will take on similar characteristics of a classic cholent because of the potatoes, beans, and dried figs. And for added texture and richness, add a vegetarian kishka to the crockpot.    
MORE: Osh-Sovo Bukharian Slow Cooked Rice with Dried Fruit
MORE: Vegetarian Crockpot Meals
Growing up in my house, my father prepared a traditional Ashkenazic cholent every Friday afternoon with meat, potatoes, onions, barley, beans, and kishke. When I woke up on Shabbat morning, I would come right downstairs to taste a bite. I can still smell the savory aroma of the slow-cooked beef stew and to this day, cholent remains my favorite Shabbos morning breakfast.  
MORE: Jamie Geller's Family Cholent Recipe- Watch the Video Here
This sausage packed flavorful cholent is inspired by Paella, which is a Spanish dish of rice, sausage, chicken or seafood. Arborio rice is a must in this dish, as it is a very thick grain rice that will not fall apart in your slow cooker.         
MORE: Prize-Winning Chulent Recipe    
MORE: Classic Easy Paella
Recipes originally published in Joy of Kosher with Jamie Geller Magazine Fall 2014 Subscribe Now