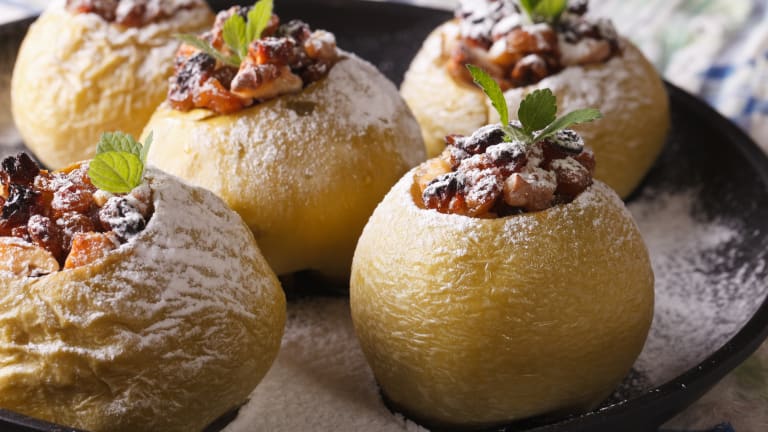 4 Unique Recipes For Baked Apples
It wouldn't be Rosh Hashanah without apples dipped in honey, but for food that's exquisitely special, build on this tradition by making baked apples. This is an easy dish to cook and also incredibly flexible, so with little changes here and there you end up with dozens of variations. Besides, depending on how elaborate the recipe, baked apples can serve you in several ways – as a snack, for breakfast, or even for dessert. The bonus for kosher cooks is that most recipes can switch easily from dairy to pareve.
 EASY BAKED APPLES WITH DRIED FRUIT AND JAM
The recipes all begin with the right apples – ones that absorb flavor well and soften properly but don't get mushy in the oven. The best choices are Cortland and Rome Beauty, or, if you can find them, Northern Spies, Paula Reds, and York Imperials.
Peel the apples halfway down from the top (this makes the fruit more flavorful), place them in a baking dish, pour some honey over the tops, and bake the apples, uncovered, for about an hour or until they are tender. You can switch to maple syrup or agave instead of honey. Or sprinkle the apples with sugar.
Want to stuff the apples? Just remove the core and seeds to ½ inch of the bottom and fill the hollows with ingredients like these: raisins, chopped dates or other dried fruit, chopped nuts, crystallized ginger. Add the stuffing dry or mix it with jam, brown sugar, or more honey.
Seasonings? Sure. Anything from a sprinkle of cinnamon to ground nutmeg to freshly grated citrus peel.        
Another way to transform a plain baked apple into a stunning, celebratory dessert is to cloak it with meringue. Bake the apples first as you would for any recipe, then let them cool. Just before you want to serve the dessert, spread the outside of the apples with a thick layer of meringue and bake them briefly in a hot oven (450°F) to color the tips a rich golden brown.
PASTRY-CLOAKED BAKED APPLES WITH HONEY, DATES, AND GINGER 
French cooks in the province of Normandy make an elegant baked apple version called Douillon. This dish is like an individual, whole- apple pie. The apple may be peeled or not and stuffed or not, then lightly sweetened before being wrapped in puff pastry and baked to a golden brown. You can buy packaged frozen puff pastry or substitute traditional pie dough.
Main Image: BAKED APPLES WITH GOLDEN RAISINS, HAZELNUTS, AND CIDER   
Article published in JOY of KOSHER with Jamie Geller Fall 2015. Subscribe Now.
Want stories like this delivered right to your inbox? Sign up now for our *free* JOY of KOSHER Newsletter.