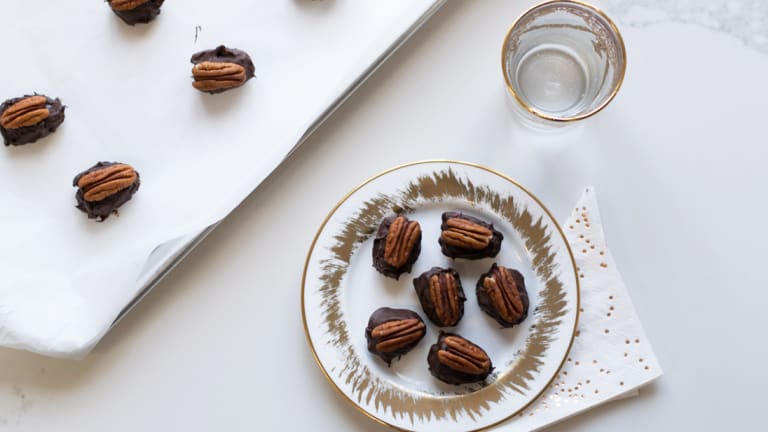 4 Ways To Throw A Healthy, Easy and Plant Based Hanukkah Party
Celebrating Hanukkah with loved ones doesn't have to be stressful and difficult. It also doesn't have to be loaded with fat and calories.  You can throw a party that is easy, planned and prepped ahead and healthy!
Here are four ways to throw a healthy, easy Hanukkah.  
1. Keep it to yourself
Try keeping your healthy Hanukkah plans a semi-secret. No "Fat-free latkes @my house, PM me if you're interested" Facebook updates or "Hanukkah salad bar @my place" IG posts.
Many people are timid with food that's been earmarked as "healthy."  Let the gorgeous food speak for itself and think of yourself as a healthy Hanukah secret agent.
2. Flirt a little bit (with the food)
People flirt with food (think the last time you made audible noises while window food shopping.) We want people to flirt with your food - eyeing it and wanting to eat it and we can create flirt-worthy meals by making them beautiful first and delicious always.
Make the extra effort to present the food with thought and style. Beauty is an important part of the food experience, making food and its consumption "special." My goal is always to make healthy food look twice as beautiful.
When we prepare "healthier" food,  we occasionally take it a bit too far, thinking "whatever is worth doing is worth overdoing."
Dear reader, you might want to sit down for this but I must be direct: do not limit salt or sugar in your healthy Hanukkah dishes. Salt and sugar give people a lot of pleasure and should be included in your recipes. Let your guests enjoy themselves!
3. Avoid the all or nothing trap
Whole-food, plant-based eating does not have to be an all-or-nothing lifestyle. You can start experimenting in small ways that feel doable and exciting to you, like swapping out a single ingredient in your favorite dish or preparing one plant-based recipe for your Hanukkah party.
4. Wow them with dessert
Plant-based menus aren't about deprivation! There are tons of luscious, delicious desserts that don't include eggs or cup after cup of butter and cream. My family loves my vegan chocolate zucchini cake and there are so many options for sweets that won't leave you comatose on the sofa.
Repeat with me: simple, fresh, and beautiful. This Hanukkah is for us and within our reach.
P.S. People stress the symbolic importance of oil at Hanukkah. Nobody said you have to eat the oil! Get an oil candle if it makes you feel more connected to the miracle. Think about it.
Now try my Sweet and Savory Mini Latkes and serve them with homemade Tofu Sour Cream and Chives or Applesauce and then check out some more plant based vegan Hanukkah favorites. 
Vegan Latkes with Cashew Sour Cream