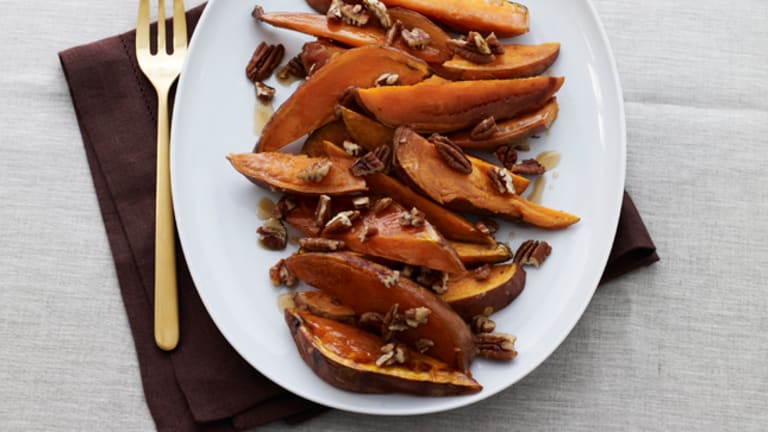 4 Yom Kippur Fasting Rules and A Prefast Menu
So there are quite a few rules or laws one must follow on Yom Kippur.  The most well known rule is no eating or drinking from sundown the first night to sunset on the second. There are others like not wearing leather and not bathing, but I want to delve deeper into what I call my "Fasting Rules". 
Rule #1
Drink lots of water the day before. 
Rule #2
Give up your caffeine a few days before to avoid the dreaded withdrawal headache.
Rule #3
Eat filling high protein, high carbohydrate foods that are low in salt and sugar the whole day before. 
Rule #4
During the fast, stay out of the heat and plan to rest in between services.
MORE: Yom Kippur Food Holiday Guide
Here is a menu you can use for your prefast meal that follows all these rules.  
Make a refreshing flavored water or herbal iced tea to encourage drinking lots of fluids.
CHICKEN WITH ROSEMARY AND APPLES
I like to serve chicken, turkey, or fish for a high protein main that can be cooked without too much salt.  This recipe is easy to make and fits the season with apples and rosemary. 
I like serving potatoes or other root vegetables as a filling starchy side. The addition of some nuts will provide a little extra protein and healthy fat to keep you full. 
This menu is just calling for something green ‒ anything simple and easy will do. But while I usually love my greens with garlic I suggest staying away from garlic before the fast, it doesn't brush away that easily. 
I like to end with a simple refreshing dessert of watermelon. This recipe dressed it up a bit if you want to make it more fun.  Save the decadent dessert for after the fast.