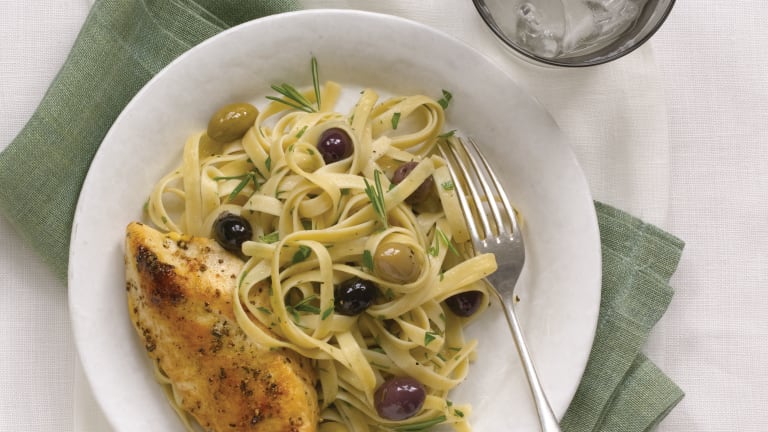 5 Holiday Worthy Chicken Dinners
Per the doctor's orders, we are trying really hard to cut the red meat consumption in our house down (and out) daily, and even over the holidays. It has forced me to get uber creative with chicken. Most of us fall prey to feelings of "if I don't come to the table with a 10-foot long platter featuring a gorgeous, sliced, succulent roast then I have not done my duty as a holiday hostess" - but I have tried hard to get over that ridiculous guilt. (And have tried even harder to stop apologizing to my guests.) And so I share these winner winner chicken dinners that can more than hold their own next to (or in place of) a beautiful brisket.
MORE: EAT MORE CHICKEN, FISH, AND BEANS
This Italian-American dish featuring cutlets, mushrooms and Marsala wine was one of my chef grandfather's signature dishes.
I'm a glutton for super thin quickly sautéed cutlets. Topped with fried sage and served with Angel Hair Al'olio and Sautéed Cherry Tomatoes - when I brought this to the Shabbos table everyone was ooohing and aaahing and the noises only became more obscene after everyone started eating.
CHICKEN WITH BRAISED RED CABBAGE AND FENNEL 
I can not overstate what a winner this recipe is. This stove top braised chicken is so juicy and moist and I just love the licorice like fennel (sometimes called anise) and vibrant red cabbage.
Prepared in a foil tent, this technique is all about a few ingredients cooked to perfection. Now that's when you know your food is 5-star.
I selected this beauty for the cover of my 2nd book QUICK & KOSHER Meals in Minutes. Make sure to get a great sear on that chicken, use black and green olives for added flavor and interest and finish with your favorite herbs (I recommend parsley and rosemary).
What's your shmancy-est holiday chicken recipe?
Want stories like this delivered straight to your inbox? Sign up now for the Joy of Kosher weekly newsletter.