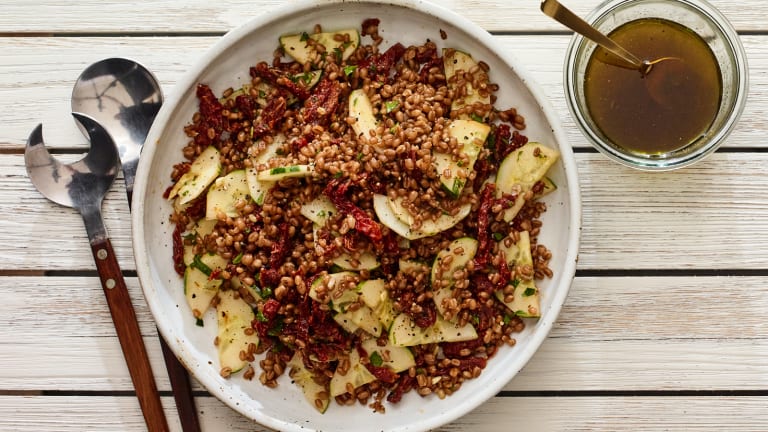 5 Ingredient Summer Shabbat Menu
We know you love 5 ingredient recipes as much as we do.  So often simple is truly best and this menus proves that you can do a lot with very little. 
Each recipe on this menu has only 5 ingredients, not including extra virgin olive oil, salt and pepper.  The key is using the best quality ingredients for maximum flavor. 
Simple gefilte fish is great, but even with only 2 extra ingredients you can dress it up a bit to get more veggies in the meal and brighten it up. 
Simple skewers of chicken and veggies are quick to prep and cook, but also sit well for later.  Eat cold or keep warm. 
3 INGREDIENT WHEAT BERRY SALAD
We love this yummy 3 ingredient salad, even if you add the extras you can keep it under 5 ingredients.  You can also try these One Pot Crispy Potatoes. 
Bark of all kinds is the best, no bake, quick, easy, few ingredient dessert you can whip up even at the last minute.  We also love these Almond Peaches for an unusual way to serve fresh Summer peaches.