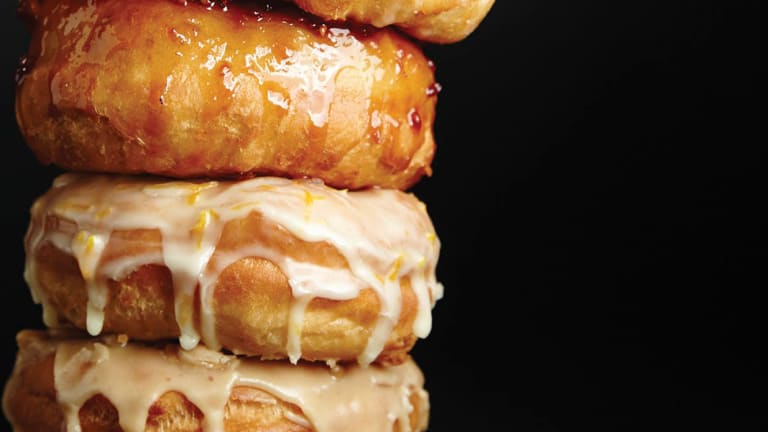 5 Natural Doughnut Glazes that are Full of Flavor
Editor's Note: Start with this recipe for YEAST-RAISED DONUTS, and then go ahead and experiement with the different natural glazes below. Which one is your favorite?
Doughnut Tips:
If making traditional doughnut shapes with holes, deep-fry the doughnut holes as well. You can save them for another night of Chanukah or serve them alongside your doughnuts. You can use this dough to fry up classic sufganiyot; fill with jam and dust with powdered sugar.
Deep-fry doughnuts ahead of time and prepare a few fun fillings and glazes. 
Place doughnuts in a 350 °F oven for five-ten minutes to warm up and have your guests or family custom-fill and glaze their own doughnuts. 
This recipe is foolproof and one you can rely on to make the perfect yeast doughnuts. It also freezes well (after going through a few hours of rising, punch it down, seal well, and freeze) and lasts in the fridge for two days, so you can definitely make these in advance. The results are fluffy, light, and airy doughnuts. You can shape this dough as you wish. I love the classic doughnut shape, but you can try any shape you want. 
Natural Glazes:
The glazes below are full of flavor and utilize natural ingredients for color and taste.
The general principle of a glaze is to combine powdered sugar with a bit of liquid to achieve a sweet, runny topping. If you prefer a thicker glaze, add a bit more powdered sugar. If you prefer a runnier glaze, add a bit more liquid.
Keep in mind that the heat of the doughnut adds moisture to the glaze. Therefore, dipping a hot doughnut in the glaze will result in a runnier glaze, versus waiting for the doughnut to cool a bit, which will result in a thicker glaze
1. PEANUT GLAZE
3. ORANGE GLAZE
Recipes originally published in Joy of Kosher with Jamie Geller Magazine Winter 2014 Subscribe Now
Want stories like this delivered right to your inbox? Sign up now for our *free* JOY of KOSHER Newsletter.