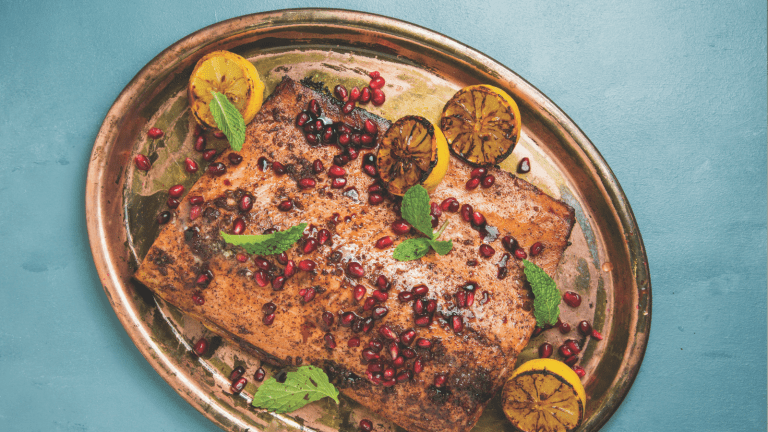 7-Minute Prep Simanim Recipes For A Full Rosh Hashanah Menu
My most popular Rosh Hashanah menus are by far the simanim-inspired. I love the challenge of creating them (this my 8th year!) and we all love the excitement of serving them. Simanim-laden dishes at your Rosh Hashanah feast are an incredible conversation enhancer. It's like a spiritual game of I Spy. You're welcome—for providing both the food and entertainment this year.
MORE: Last Year's 7-Minute Prep Simanim Menu
So super simple, but oh so delish, you won't believe it. 
This dish is one of those Shabbos/Yom Tov Kodak moments. (OMG, how much did I just date myself with that photo reference?) When you present your side of salmon with pomegranates, seared lemons, mint leaves and all, the entire table will ooh and aah. The best part: it tastes as gooood as it looks.
Now that we have Facon we can join the "bacon"-wrapped-date craze. Traditionally, this dish calls for dates stu ed with cheese and/or nuts, but this two-ingredient kosher, Rosh Hashanah-friendly version is simply perfect as is. 
DATE, CRANBERRY AND COUSCOUS SQUASH BOWLS
When nature presents you with an edible bowl
(that also happens to be a holiday simanim), I say it's a sign.
APPLE, SAUSAGE, AND SPINACH SALAD WITH ORANGE BLOSSOM HONEY
Highly prized for its unique and delicate orange avor, orange blossom honey also boasts a wide variety of natural antioxidants as well. (And, yes, if I haven't convinced you to add another item to your shopping list, you can always swap good 'ol plain honey in this recipe.) Bonus: Transfer remaining dressing to a container and store in the refrigerator for up to one week.
 GREMOLATA PARGIOT WITH BEETS AND BEET GREENS
Classic Italian gremolata is a chopped herb condiment made from parsley, lemon zest, and garlic and traditionally accompanies ossobuco. I've swapped the parsley for fresh dill and generously seasoned pargiot, beets, and beet greens with this bright, earthy garnish. Swap: Beet greens for Swiss chard to incorporate another simanim. 
This technique for 36-hour, spice-rubbed, oven-seared, soft, buttery brisket is pretty much hands on. Once you follow my #1 Brisket Golden Rule: Rest After You Rub, you will never make brisket any other way again. The 24- to 36-hour chill- lax time in the fridge (whether with a spice rub or just S+P) tenderizes the meat to a toothsome, luscious, succulent, buttery consistency like you've never known before.
Make a quick apple pie, buy presliced apples to make the hands on time even less.