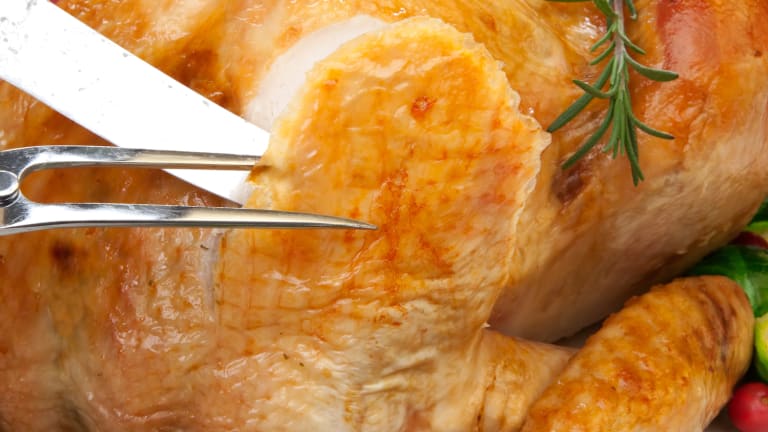 7 Rules for Carving a Turkey
Whether this is your first Thanksgiving, or you're a turkey-carving pro, here are some of our best tips for ease with that big knife, and beautiful presentation of your roast turkey masterpiece — on Thanksgiving or any occasion!
1. Carve in private. We recommend carving your turkey in the kitchen, and bringing a platter of assorted white and dark meat to the table. This will take the pressure of carving WAY down.
2. Finish early. In fact, time your roasting so that the bird finishes about 30-60 minutes before company arrives. That way, the bird can rest, cool slightly, and be carved before everyone arrives, then go back in a warm oven or warming drawer (170°F) until serving time. If you have a platter that can go in the oven, load it up (otherwise use aluminum pans). Baste with pan juices (not gravy), wrap tightly with foil and keep warm until serving.
3. Use a sharp knife. Don't bother with an electric saw thingy. Just a long, well-sharpened chef's knife will do the trick. Some folks prefer a serrated knife, but this will leave some marks on the white meat.
4. Carve in stages. You may want to cook the thighs and legs longer if the breasts are done first. Carve along the seam where the drumstick protrudes from the backbone to loosen, then follow along the edge of the thigh. Return drumstick/leg to oven to cook. Tent breast to keep warm, carve when ready.
5. Even better, roast in pieces. If you're not set on carving a whole bird at the table, cook the bird in pieces to begin with. It's much easier to separate the dark from the white meat before roasting.
6. Two tricks for beautiful breast slices. If you want nice long slices, start at the top and slice away from the bone. If this feels daunting, remove the whole breast from the carcass in one piece, and lay flat on a cutting board. Slice in short, even pieces (this is much easier and will still look great).
7. Leave Drumsticks Whole. They're pretty, and the kids at the table will enjoy them. Slice thighs into pieces so folks can enjoy white and dark meat if they choose.