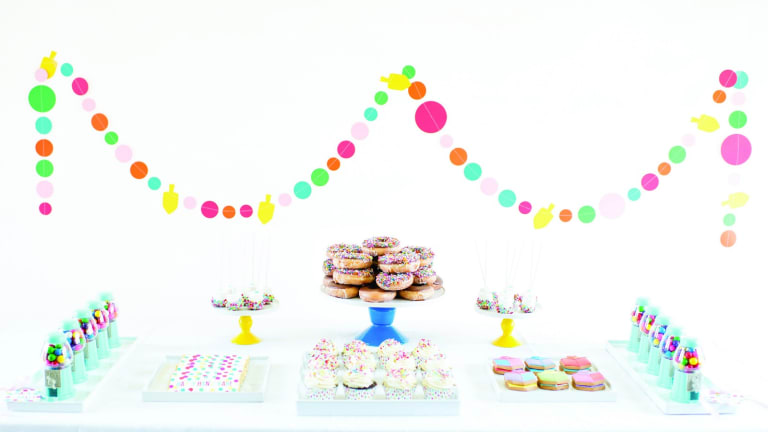 Dessert Table Decor for Hanukkah
Every year, in anticipation of Chanukah, I dig through blogs, Pinterest, and magazines to find inspiration to create a fun and unique Hanukkah celebration. 
Year after year my disappointment grows as I only find the white, blue, and silver-themed holiday displays to which we have all grown accustomed. This year I wanted to depart from the traditional colors and inspire you all to host a bright and color-popping Hanukkah party with a sweet table that will be loved by young and old. Let's face it: a dessert table is always a crowd pleaser. 
Below, I will share steps for putting together a sweet spread that will inspire more than just your palate; it will be a feast for the eyes!            
MORE: Watch How To Create a Hanukkah Dessert Table
1. NAIL DOWN A THEME
Your sweet table should tell a story that seamlessly incorporates with the rest of your celebration and its identity. This is where you have an opportunity to be creative and play around with surfaces on which you will set up your dessert table, linens, accessories, and backdrop. Confetti and sprinkles were the inspiration for our sweet table. We used a bright paper confetti banner as a backdrop for the dessert bar built on a simple white surface to show off a colorful theme.
MORE: Decorating a Table for Hanukkah
2. BUILD YOUR MENU
Identify 4 to 7 desserts and candy that will relate to your theme. Mix homemade treats or embellish favorite bought baked goods. Easy-to-serve and bite-sized desserts such as cupcakes, cake pops, petit fours, cookies, specialty chocolates, and dessert shooters help create an inviting sweet table. The focal point of our spread was a tower of two-dozen sprinkled doughnuts. Stacked on a beautiful cake stand, we used delicious, gorgeous store-bought treats and made them the center of attention. Cupcakes made in confetti wrappers, bright dreidel cookies, and marshmallows dipped in chocolate and dunked in confetti perfectly complemented the theme. 
3. IDENTIFY CONTAINERS 
Once you determine the theme and related décor for your sweet table, let your imagination go wild with the containers and serveware for the treats. Anything can be a vessel: trays, mirrors, vases, jewelry boxes — the options are limitless! Look into your bubby's china cabinet and see what would complement your vision. For a unified look, use containers that relate to each other. Take into account the finish, materials, and the time/era they represent and their relationship to your theme. We chose to work with modern, white serving platters, allowing the colorful elements of our theme to stand out.
MORE: A Brown and Gold Hanukkah Table
4. EMBELLISH AND WOW 
Use embellishments and unexpected details to elevate your dessert table from ordinary to extraordinary. You can incorporate fun favors into your table display and custom-made items that match your theme. We displayed gumball machine favors and custom "Happy Hanukkah" Hershey chocolate bars to add a bit of wow to our sweet spread. Print our Happy Hanukkah label here. 
5. LABEL
With food labels you take the guesswork out of what is being served. Specify items that might meet specific dietary restrictions (dairy, pareve, gluten-free, sugar-free, etc.).
6. CONSTRUCT
Follow a pyramid-like schematic for your sweet table. Once you establish the focal point, build the rest of your table striving for symmetry or pattern in the way you arrange your containers and serving platters. 
Whether the sweets will be a conclusion to a dinner party or a centerpiece of your dessert-only celebration, have fun and don't be afraid to do the unexpected! 
Happy Chanukah!
PRODUCED AND STYLED BY OKSANA BELLAS from As Sweet As It Gets Events