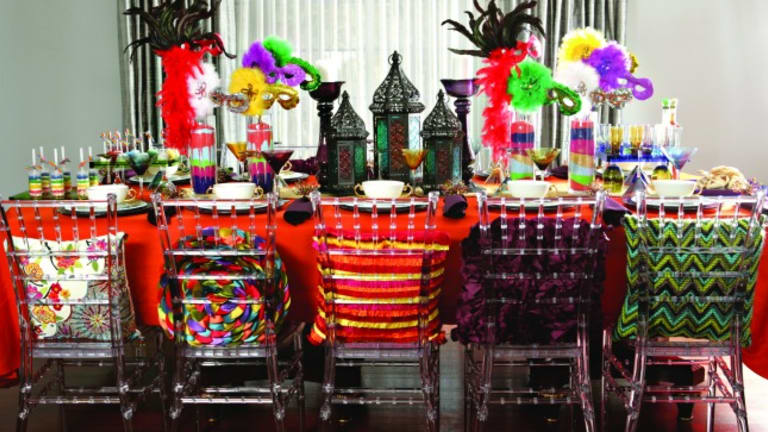 A Feast Fit for a King Shabbat Menu
This weeks Shabbat menu is inspired by the upcoming Jewish holiday, Purim. Festive, gourmet foods that feed a crowd and can be made in advance is what is on this weeks menu. In fact, make a double batch of these dishes and save all your energies to party on Purim day.
Click HERE for a look into how we set up the fun, whimsical Purim tablescape pictured above. 
Enjoy the step-by-step instructions to this showstopper. 
MUSHROOM & SWEET POTATO ARUGULA SALAD
For advanced prep, pre-roast the vegetables up to 48 hours before serving and pre-mix dressing. This can be served up as a family style salad or individual appetizer. 
WINTER BEET SALAD WITH POPPED RICE
This simply stunning salad elevates simple beets & rice to new heights. You can roast beets and pop rice in advance. 
SHEET PAN ROASTED EGGPLANT FATTOUSH SALAD
An amazing side dish or first course option for vegetarians that comes together in minutes, all on one sheet pan. 
Put the brisket in the oven tonight, and wake up to the most incredible brisket ever.
Easy without compromise on flavor and presentation. 
THANKSGIVING SAVORY HAMANTSCHEN
These savory hamantaschen pie can take the place of a typical quiche or kugel you may be inclined to serve on Shabbat or your Purim feast. 
There's a reason these kugel cups are one of the most popular recipes on the site. Make it and find out why. 
This rich dark chocolate cake's appeal is enhanced with antioxidant rich bittersweet chocolate and the extra virgin olive oil used as the fat element in the cake. 
Double Chocolate Peanut Butter Hamantashen
Decadent, kid-friendly, these cookies freeze well. 
Looking for more Purim ideas?