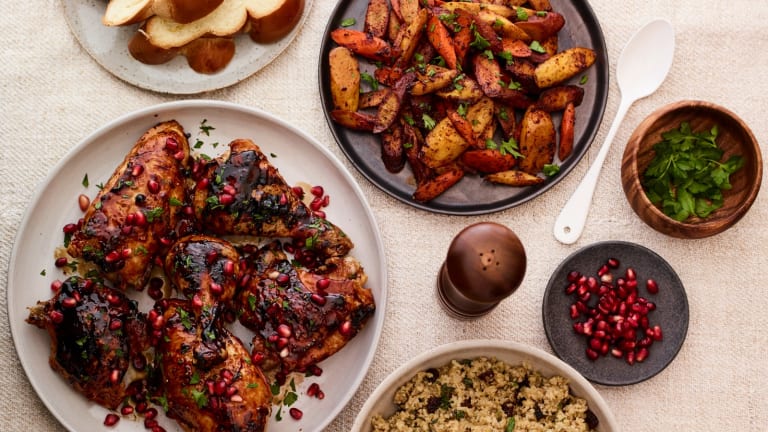 A Freekeh Good 1 Hour Shabbat Menu
Sheaves of wheat in the field. And eleven sheaves bow down to a single one. Oh, Joseph! What are we going to do with you? It must be some very impressive whole wheat. Now, I don't expect anyone to have to bow down to get the recipe for a perfect whole wheat bread. But I do think it is time to get Freekeh!!! 
The core of this menu—chicken, pilaf, and carrots—can all be prepared in under an hour so you can get this cooked despite the short winter day. 
You can pull off this hummus quick and easy using store bought hummus. All you have to do is dress it up with some roasted eggplant and you have a full blown appetizer. 
Chicken pieces get lots of flavor from this pomegranate sauce. After pan searing, they are basted and roasted and can stay warm until ready. 
Freekeh is an ancient grain, a type of wheat that's harvested while young and green. It is firm and chewy with a distinct flavor that's earthy, nutty, and slightly smoky. Try it in this delicious pilaf. 
We can't get enough harissa—make a big batch and use on everything from these carrots to our Charred Green Beans, in Vegan Latkes, or even in this Tomato Soup. 
Make your own halva or buy some of this traditional Israeli dessert that is naturally gluten free and incredibly delicious.   If you haven't tried it in a while I urge you to try it again. 
For last year's Shabbat Menu Vayeishev click here.
Want more recipes delivered straight to your inbox? Sign up now for the JOY of KOSHER weekly newsletter.