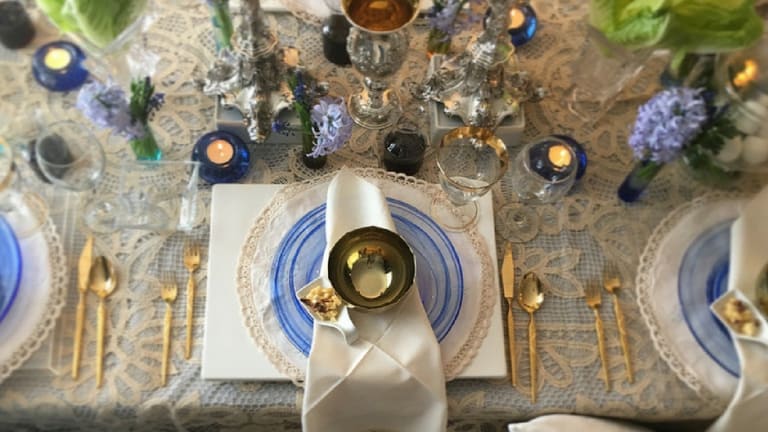 A Gathered Table Of Tradition Both New And Old
As a little girl I always looked forward to Pesach. There was always an excitement that came with its preparation and an eagerness to be together with family. Even though my mom worked tirelessly to prepare for the holiday and would arrive at the Seder exhausted, she always had a smile while looking around at everyone gathered together at her beautiful table.
Growing up, I was never allowed in the kitchen, my job was to set the table. I can't say that I was always excited to do my part in helping out, but when it came to Pesach you didn't have to ask me twice. All our fine linens, dishes, silverware and goblets were saved for this holiday. I had creative license and permission to use what I pleased.
The most beautiful lace tablecloths were released from the wicker trunk where my mom stored all her treasured linens that she had collected throughout the years, even one from my great, great, grandmother from Poland. Bubby Sarale's glass goblets with gold rims and her special "Pesach" silverware that she had brought with her from Cuba stored in the left side of the china cabinet, and was kept sealed throughout the year would now glitter down the table. The pressed white and powder-blue lace trimmed pillow cases would adorn the chairs and slowly the table would come together in the most extraordinary way.
I have also grown to love some of my mother-in-law's traditions as well. My favorite is her romaine lettuce centerpiece. She always uses her best crystal vase to adorn the center of her table filled with romaine leaves that will later be used during the Seder. Her gold chargers are always aligned perfectly down each side of the table to polish off her elegant look.
This year, I set my own table in my own home, and it is a reflection of what I have collected and cherished the most throughout the years. Hopefully, imparting in my own children, the same excitement for tradition and love for the holiday.
Wishing you a very Happy and inspiring Pesach.
A Gathered Table Of Tradition Both New And Old