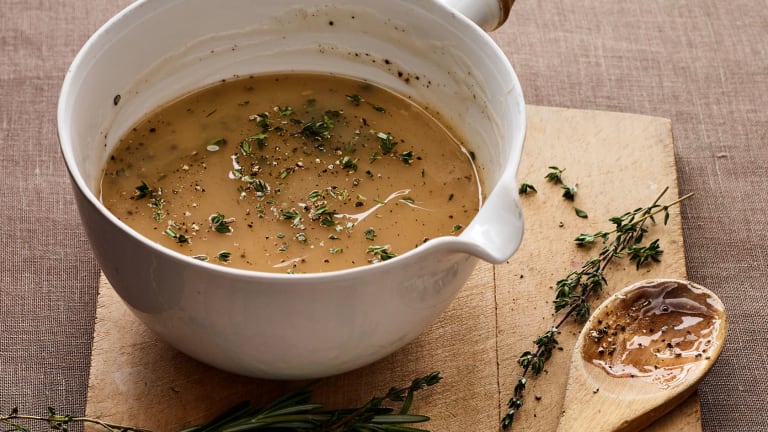 A Gravy Train(er): How To Make Great Gravy
Gravy seems to be a kitchen conundrum for many. But it shouldn't be. It's a simple and flavorful sauce that every cook can make with the right ingredients, measurements, and method.
HOW TO MAKE GREAT GRAVY
THE INGREDIENTS
Gravy is a combination of roux (cooked fat + flour) and broth, and if you want to get fancy, herbs, wine, or mushrooms.
All gravies contain:
1. Fat - chicken, turkey, extra virgin olive oil, or a combination of the three
2. Flour
3. Flavorings - fresh herbs like thyme, sage, and rosemary; roasted turkey neck; dried mushrooms; giblets; and white wine (these are optional, but add complexity to your gravy)
4. Pan drippings/broth - turkey, chicken, or poultry drippings/broth (or combo of these)
THE MEASUREMENTS
A smooth gravy is all about the ratio. Equal amounts of fat and flour, plus a cup of liquid for every tablespoon of fat and flour.
1 tablespoon fat + 1 tablespoon flour + 1 cup pan drippings/broth = GREAT GRAVY!
These measurements are scalable, so you can make as much or as little gravy as you need.
THE METHOD
You can make an evoo based gravy ahead of time. It will thicken as it sets, so just add a little extra pan drippings/broth to loosen it up.
1. Heat several tablespoons of fat in a saucepan until hot. Add the same amount of flour and cook, whisking constantly, for 2 minutes. This will get rid of the raw flour taste.
2. Pour in pan drippings, broth, or combo of both and whisk for a few minutes until the mixture starts to thicken. The mixture won't thicken right away; it needs to come to a simmer before the thickening happens. 
3. Add fresh herbs, dried mushrooms, roasted turkey neck or pulled meat, giblets, and a touch of white wine (optional).
4. Taste, and if necessary, season with salt and pepper. Strain out herbs and neck bones before serving.
Now that you know the basics, check out these gravies that pair well with your Thanksgiving turkey.
Here's your go-to gravy recipe for any meat and any occasion. Use vegetable broth to make a vegetarian version for dairy mashed potatoes or roasted veggies.
Turkey, giblets, and porcini mushrooms lend their flavor to this rich, meaty gravy.
Want stories like this delivered straight to your inbox? Sign up now for the Joy of Kosher weekly newsletter.