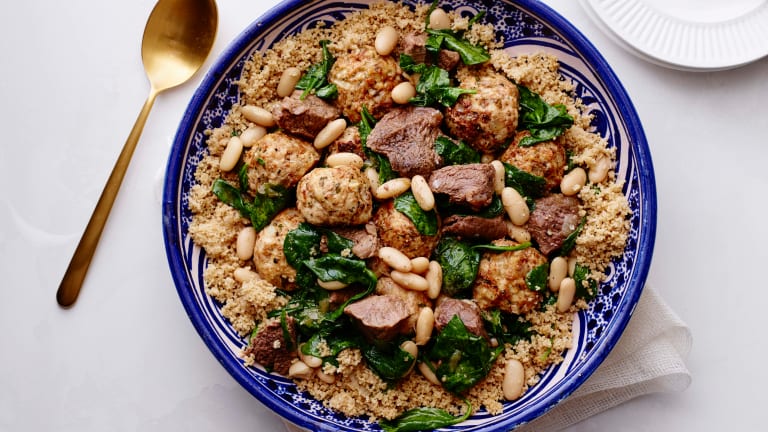 A Healthy Rosh Hashanah Holiday Menu
Rosh Hashanah is not only the beginning of the Jewish year, but it is the beginning of a month long marathon of cooking and eating.  It is not the easiest time to stay healthy and it is almost impossible not to gain weight.  So my goals for myself and for you is to limit the damage.  
Here is a healthy holiday menu I put together with recipes excerpted from our 28 Day JOY of KOSHER Challenge.  
My biggest tip that I just can't help but say over and over is to pile on the veggies.  Everyone feels they have to cook and serve over the top for the holiday and that is great, just add vegetable dishes instead of more meat and starch. 
I absolutely love this chopped salad, it is so simple and uses veggies you usually have on hand, but is the perfect combination of crunchy, sweet and tangy.
This flavorful blend between a soup and stew was one of the highest rated on the challenge.  Many people even made it in the slow cooker.  
Serve with whole wheat couscous. 
I don't normally recommend serving two meats, but it is Rosh Hashanah, so make the second one a lean chicken dish that makes great leftovers. 
GRILLED FENNEL WITH TOASTED QUINOA
Another favorite, you can feel free to broil instead of grill, but do not miss this dish!!!  It will surprise you. 
Keep the extra toasted quinoa for your morning yogurt bowl. 
BROCCOLI AND CAULIFLOWER KUGELS
Becuase I know you feel you need to have a kugel, here you go.  Check out the surprise secret ingredient and see how we keep the calories down, but the flavor up. 
For dessert, if you can stick to a fruit salad or this crisp using any fruit you can have or want it will be your best bet.  
If you make something more decadent try making something in mini muffin tins to keep the portions down. 
All the recipes above are healthy, filled with veggies and low in calories.  Of course if you eat it all plus challah and apples and honey you know the calories will rise, but at least we have limited the damage.  
To a healthy new year. 
If you like these recipes and want more, you can still get the full 28 Day JOY of KOSHER Challenge recipe ebook anytime.