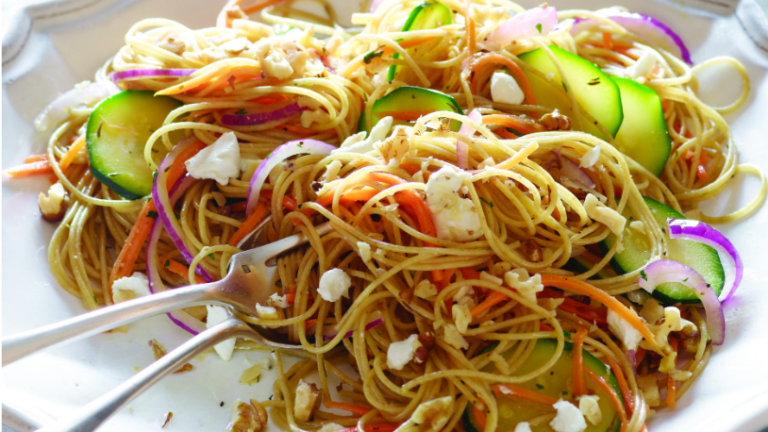 Light Pasta Recipes To Break A Fast
People think of pasta as heavy - but it can be light. Ok so you probably already knew that but until recently I always preferred super heavy, creamy, cheesy, saucy pasta dishes. So whenever I thought pasta I thought about an off-the-diet, carb, and cream-laden, coma-inducing feast. Always one to overdo things I would roll out of a pasta meal feeling like I never ever wanted to eat again.
Now that I am trying to take an overall healthier approach to food and not just completely cutting the carbs when I am being "good" and subsisting solely on carbs when I am being "bad" I have started to change the whole house over to whole grains and have begun to enjoy lighter, whole-wheat, summer pasta dishes.  I also read this on why to choose whole wheat pasta and I can't argue with Tamar.  
Anyways, my Whole Wheat Spaghetti (use angel hair if you can find it) and Goat Cheese Crumble, loaded with julienned sweet potatoes, red onions and zucchini (you can also cut the squash into paper-thin coins if you like). Tossed with extra virgin olive oil, thyme, crushed garlic, chopped walnuts, and crumbled goat cheese it feels indulgent, it looks beautiful, its tastes decadent but is decidedly not a "bad girl" dish. Wonderful and perfect for a break-fast meal when you need some substance but don't want to be left feeling like you're ready to roll. 
Now here are more light pastas to break your fast, there's even a few gluten free ones with zoodles and spaghetti squash for those who want to cut the carbs further, but after a fast, a bit of carbs will do you good.
11 Light Pastas