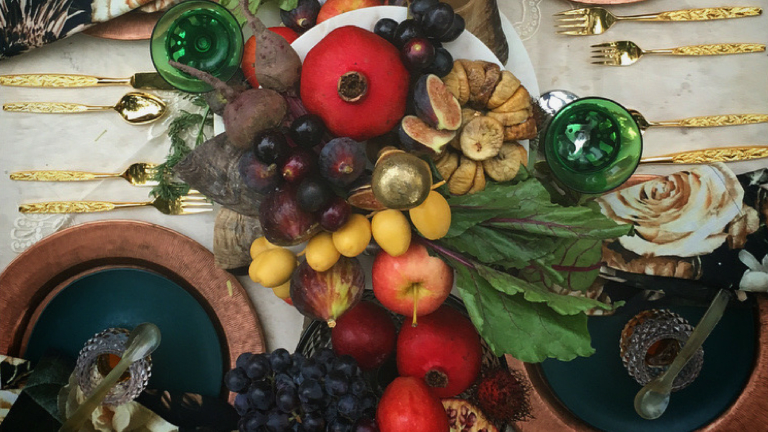 A Luscious Rosh Hashanah Tablescape
This luscious table-scape is organically elegant, overflowing with black Muscat grapes, crisp apples and an assortment of new fruits. As with all Jewish Holiday's the foods we eat are a highly symbolic part of the celebration and Rosh Hashanah is no different. Instead of just eating them this year, I thought why not make them the focal point of my table, and that's just what I did.
Here are my top 5 tips for setting the perfect Rosh Hashanah table:
1. I covered my table with a sheer embroidered overlay with pearl details to balance the organic and elegant look. I didn't want something too overdone to take away from the centerpiece.
2. Chargers add so much elegance to your table and this would definitely be the right time to pull them out. I love how these copper chargers play off the gold flatware. Don't be scared to mix metals. Metallics are high on trend and mixing them adds a fresh edge to your table.
3. Choose your favorite cake stands or étagères and place them down the center of your table. Odd numbers work best. So choose 1, 3 or 5 stands. Prepare all your produce neatly on a table next to you. Start with the larger items at the base and distribute them evenly amongst the stands. I used fresh beets and carrots still on their stems intertwined with Shofars of all sizes at my base to add depth and weave in the symbolism. After the larger items, I added the more delicate grapes, fresh figs and dried fruits. For the final touch I added carved fruits delicately arranged on the stands. Not only is this beautiful but I love that you can literally eat the centerpiece.
Allow a few extra minutes when you're at the market to choose the nicest produce.
Produce: Apples: Red Delicious and Golden. Pomegranate. Figs: fresh and dried. Dates: fresh and dried. Grapes: Black Muscat. Pears. Plums: purple and golden. Organic carrots and beets with leaves attached.
New fruits: Guava, rambutan and mangosteen
4. When it comes to dipping my preference is to have individual honey dishes. I used small glass tea-light holders filled with honey at each seat topped with mini spoons. The spoons are made out of horn. How perfect for Rosh Hashanah is that!
5. This centerpiece lends itself to be accented with colorful details. Use the produce you find as your inspiration for your color accents. I added purple and green glasses and deep teal plates. These tones accentuated the deep reds and golden tones of my fruit while still allowing the produce to shine.
Wishing you all a wonderfully sweet and abundantly blessed year-