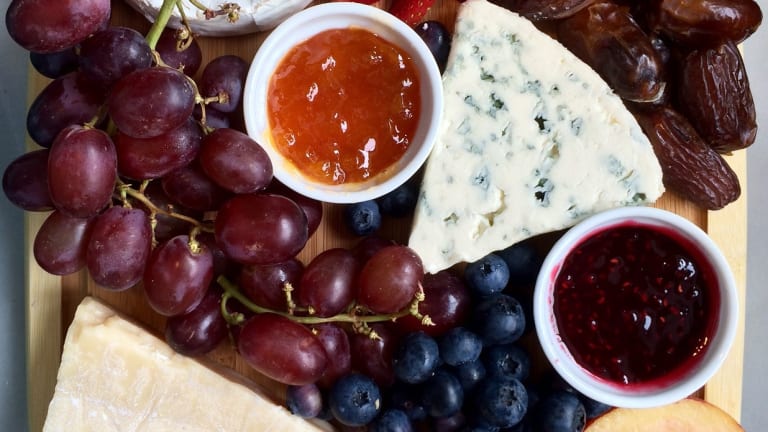 A No-Fuss Shavuot Menu, So You Can Enjoy The Holiday
My first Shavuos as a married woman I did what any newlywed wife would do. I created the most complicated, intricate menu I could think of and hosted several guests for each meal. Though I've mostly pushed the memories out of my mind, I remember something having to do with homemade ravioli and three different types of cheesecake. I also remember finally accepting my sister-in-law's offer to help when I realized we had about 30 minutes left before the holiday began to fold more than 50 squares of ravioli. When the ravioli came out sticky and ripped and the cheesecakes were just barely edible for humans, I was completely disappointed in myself for failing to create the most wonderful Shavuos experience.  
Two kids, the discovery of Wacky Mac and an unidentifiable amount of Chinese take-out later, I've finally learned that my self-worth is not dependent on the number of side dishes I have on the table and that what is truly important is the amount of love and joy (and patience!) I have to share with my family during these special holidays (I had none of the above during the first one…). When I finally released myself of this intense, self-imposed, culinary pressure, I began cooking more again and realized that I actually enjoyed it as long as I focused on making "no fuss" recipes with simple ingredients. I actively avoid cakes that have five paragraphs of instructions and sauces that burn if you turn off the flame 0.03 seconds too late. This was an epiphany for me and I slowly re-gained more confidence in the kitchen and found I could both enjoy the cooking and be enjoyable to my loved ones afterwards.
What I love about this Shavuos menu is how easily you can customize every recipe. If you don't have time for the buttercream frosting, the cake is delicious without it. If you'd like to grill or broil the salmon instead of saute, it will still be perfect with the pasta. Feel free to add, adjust, and play with any ingredient!
These recipes are flavorful, fun, and perhaps even a little adventurous… but I promise there is no homemade ravioli in sight. Hope you enjoy the cooking…and your family afterwards. Chag Sameach! 
Everyone loves moscato wine, but this summer spin on the drink will kick it up a notch.    
MORE: Dairy Cocktail Recipes
This appetizer is extremely flexible so feel free to play around with different cheeses and fruits. No matter what, it will be an automatic crowd pleaser.  
MORE: Cheese Appetizer Recipes
SALMON STEAKS WITH PESTO GARNISH
An attractive and easy fish course, this flavorful recipe ties the meal together well.
MORE: 4 Brilliant Ways to Cook with Basil 
SUMMER PASTA WITH VEGGIES, WALNUTS, AND PARMESAN
If you want an alternative to the typical cheese-filled Shavuos main dish, this pasta is light and full of color and flavor.   
MORE: An Easy Traditional Shavuot Menu
ALMOND CAKE WITH CHOCOLATE BUTTERCREAM FROSTING
A family favorite, this cake is moist and flavorful, and goes well with the next day's coffee too!   
Want stories like this delivered right to your inbox? Sign up now for our *free* JOY of KOSHER Newsletter.