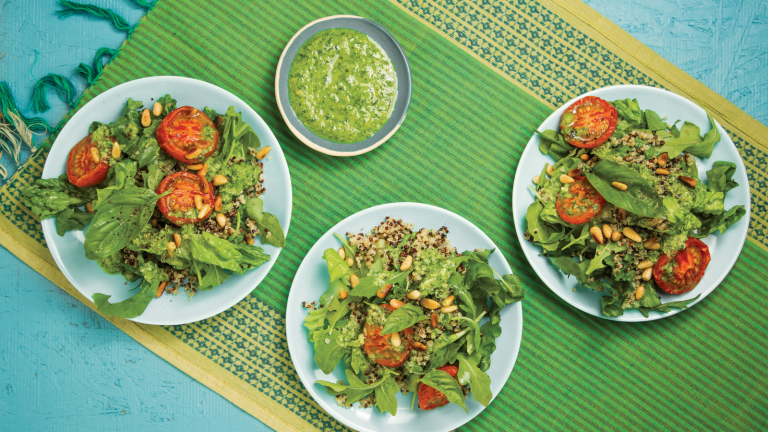 A Plentiful Shabbat Hanukkah Menu
In Parsha Miketz Pharaoh's impossible dream falls to Joseph to interpret and Joseph tells of seven years of plenty, followed by seven years of hunger.  He is rescued from jail and ascends to the highest reaches of power in Egypt.  Joseph's wise counsel and careful planning lead Egypt through a terrible famine.  While the weight of hunger is heavy throughout the surrounding lands, Egypt is full.  On the Shabbat, coinciding with Hanukkah, we are going to fill you up with a great latke recipe that is sure to get everyone to eat their veggies.  I guarantee no one will go hungry this week!
When tomatoes are not at their prime, the best way to maximize flavor is to slow roast them.  Serve them on gorgeous lettuce greens with crunchy nuts and an arugula pesto dressing for an incredible start to this Hanukkah Shabbat celebration.
VEGAN VEGETABLE LATKES WITH SOUR CREAM
Get more veggies and your latke fix with simple veggie latkes made egg-free.  Serve alongside your new favorite dairy-free sour cream or use some more of the pesto from the salad.  Both will be delicious. 
LEMON HERB CHICKEN WITH ROASTED GARLIC
Serve a whole roast chicken with lots of herbs and garlic for a gorgeous and festive presentation.  If you have a big crowd or just don't like to carve you can follow this recipe with a cut-up chicken too. 
SPAGHETTI SQUASH WITH SAUTEED KALE, RED ONIONS, AND RAISINS
A little kale, a little winter squash, a little sweet a little salt, this dish has it all.  
A Hanukkah meal is not complete without some signature doughnuts.  These are baked and offer 3 flavor choices, the only question is if you make all 3 flavors. 
Shabbat Shalom. 
For last year's Shabbat Hanukkah Miketz menu click here