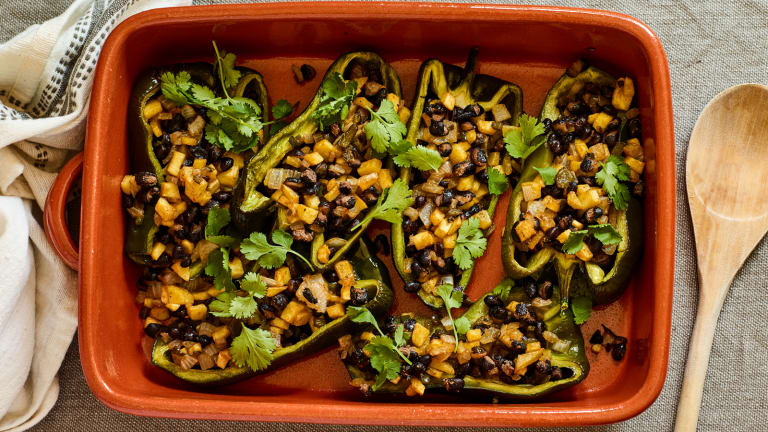 A Rosh Hashanah Lunch Menu
We have lots of amazing Rosh Hashanah menus around here, but most are for dinner.  Now don't get me wrong, dinner is one of my three favorite meals of the day.  But with three (way past) overtired children, I sometimes prefer to entertain for lunch.  Sure shul may go on until 2pm,  but when we get back everyone is truly hungry and it is a perfect time to show off some yummy creations.
SILAN AND TAHINI STUFFED CHALLAH WITH CARDAMOM 
On Shabbat, I like to mix it up and serve different kinds of breads, but on Rosh Hashanah a round challah is a must!  After filling up on my delicious Apple Challah for the first night, I go for a lighter Orange and Date Challah or silan stuffed challah during the day.
A Pomegranate Guacamole is a favorite spread that is a perfect compliment to these Stuffed Poblanos (pictured above). 
For the main course, I am going to make a Mango Chicken that can be served hot or cold.  On the side will be Yellow Rice with Cilantro and some Garlicky Green Beans.
If I am feeling wild, I will make these Margarita Cupcakes, but more likely I will go with my mom's traditional and incredibly Easy Honey Cake.
I showed you mine now it's your turn, what are you making for your YomTov?