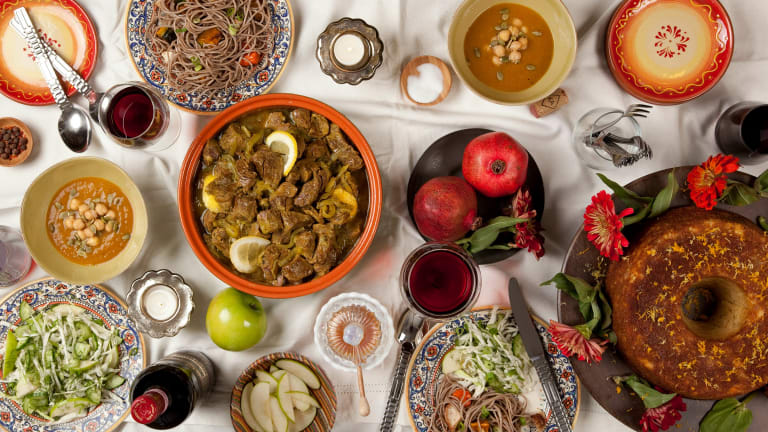 A Rosh Hashanah Menu With A Moroccan Twist
I couldn't resist drawing liberally from my Sephardic heritage to make this Mostly Moroccan Rosh Hashanah dinner menu. 
Our holiday dishes as I remember them served in my childhood home and beyond, still make my tongue smile, even after all these years. They are quick, simple and healthy! 
All the following dishes are excerpted from my cookbook, The Whole Foods Kosher Kitchen: Glorious Meals Pure and Simple. Most showcase ingredients endowed with a natural sweetness, to celebrate the upcoming sweet year. Since the whole philosophy of the book was to make even the best and most elegant dishes simple, doable, and affordable in every sense of the word, you will be grateful that none of them keeps you slaving in the kitchen, and all of them go easy on your pocket! 
Sweet-and-sour combinations work beautifully with salmon.  The onions caramelize and contribute a sweet counterpoint to the vinegar.  Another quick and delicious dish, just the way I like it— one pan and one step.
Look what happened to coleslaw! Well, why not? A slaw being nothing more than shredded cabbage as the first building block—have fun adding all the good stuff, with minimal effort on your part, thanks to the food processor. I can't tell you enough how good and good-for-you green apples are in salads and side dishes! You want this salad to be pale green and white, so nothing brightly colored such as carrots or red peppers or radishes!
MORE: A Moroccan Shabbat Menu
BUTTERNUT SQUASH-CHICK PEA SOUP 
We Sephardim love squash in every way, shape, or form, and goodness knows it comes in countless shapes and sizes. To the classical pumpkin, which can often be a hit or miss inside, I much prefer the more reliable butternut squash, but my favorite is kabocha squash.  I love its dense texture, low moisture, and mild sweetness. Perfect choice for a Rosh Hashanah menu! 
Don't worry about peeling: I use it peel and all. The peel dissolves while cooking, and is actually very thin. The pairing of squash and chick peas is typically Sephardi, and a wonderful pairing, especially when rounded out, as it is here, with sweet spices. Please do take the trouble of using dried, not canned, chick peas in this recipe: you will taste the difference in the finished dish! Using a hammer makes short work of cutting the squash and many other gigantic vegetables.             
SOBA NOODLES WITH ROOT VEGETABLES              
Roasting the roots intensifies their flavor and is practically all you have to do to make this delicious dish. The cinnamon is a great match for the root flavors. 
Cooked to perfection and a dish that stay warm until ready to serve.             
Sometimes I take my playing with food a drop further than even I myself dare, tinkering endlessly, picking my family and friends as willing victims as I subject them to constantly evolving batches, and asking them to please forget they ever tasted something if it was just way too wacky. This cake is a perfect example of getting a drop too adventurous. But here is the unanimous verdict on the last (this) try: it's fabulous, like having a cocktail in a plate instead of in a glass. This fruit cake will not be passed around like other fruit cakes: it's for keeps!             
Tips for preparing this menu ahead of time:
Prepare the dressing up to a week ahead. 
Chop salad ingredients up to two days ahead.
Pre-slice onions and prepare marinade for salmon up to a week before. 
The soup and beef tagine both freeze well. Make ahead and freeze or store in fridge for up to five days.             
For the soba, you can toast vegetables up to two days before your meal. Reheat the vegetables and add to fresh pasta before serving.
Article courtesy of JOY of KOSHER with Jamie Geller magazine (Fall 2012) - Subscribe Now