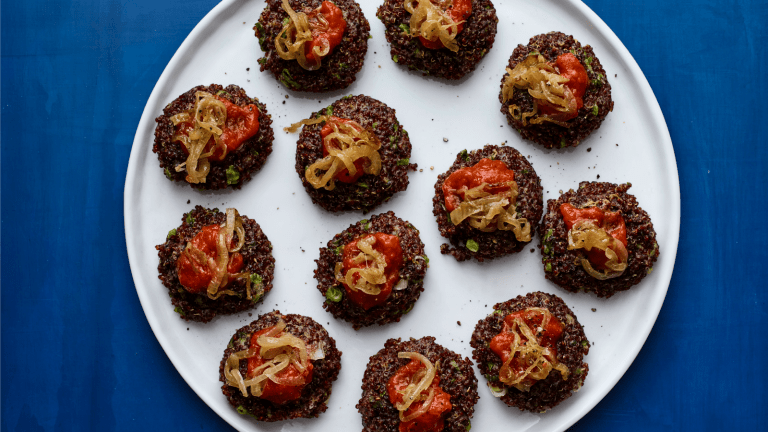 A Shabbat Menu on The Dark Side
In this week's parsha, Egypt's destruction is complete. The plague of locusts decimates the land, followed by darkness and the death of the firstborn. The Children of Israel are granted their freedom and begin their long journey to the Promised Land. In Egypt, the darkness was so thick and unrelenting the Egyptians were immobilized. For our Shabbat menu we are going to introduce black grains, so dark and delicious no one is going to want to get out of their seat either – until after dessert!
Start your meal with these crispy quinoa fritters.  I always make extra quinoa just so that I can turn them into cakes. They make a perfect first course and great hot or cold. They reheat well too. 
SLOW COOKER SPICED LENTILS AND BLACK RICE
Early shabbats in the winter are perfect times for slow cooker recipes, feel free to cook them on low in your own if you need the slow cooker for Shabbat day, but this simple recipe will give you extra time to relax before Shabbat this week. 
Use black lentils in this recipe for extra darkness.
Cause every menu needs a little color, even one that is representing darkness. 
End the meal with a the sweetest darkness of all, perfect chcocolate mousse with a sprinkle of salt. 
Don't miss our weekly shabbat menus sign up for our newsletter here.