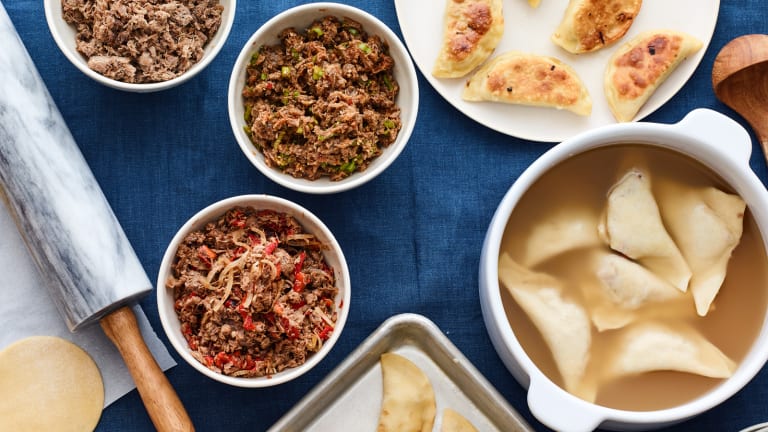 A Surprising Shabbat Menu
Lech Lecha, tracing the journey of Abraham from his birthplace to his homeland, is about the hidden and revealed.  From hiding the identity of his wife, Sara, from his neighbors, to the unfulfilled promise of a nation, much is given to Abraham, yet the reason for his chosenness remains a mystery.  
This week we celebrate Shabbat with kreplach, a traditional Jewish Shabbat food that appropriately conceals its true essence.  Kreplach is a reminder that sometimes food, like the world around us, needs to be opened up to be experienced.  (There is a surprise kreplach for dessert too.)
Chicken Soup with Kreplach
Start your meal with your favorite chicken soup (or ours) linked above.  Add to it either store bought kreplach or follow our video and guide to making kreplach easy, with shortcuts and hacks so you really can make it this shabbat. Check out our kreplach hacks here. 
Roasted Garlic Chicken with Baby Vegetables
This is a true crowd pleaser and since you spent a bit of time on your kreplach and soup, we wanted the rest of the meal to super easy and in one dish.  You can stop here since this recipe has chicken, veg and potatoes. 
Our surprising dessert uses wonton wrappers in a different way. Baked or fried and filled with the flavors of pumpkin pie (or you can use apple pie) you will love this easy, delicious dessert. 
For more Parsha Lech Lecha Menus click here.