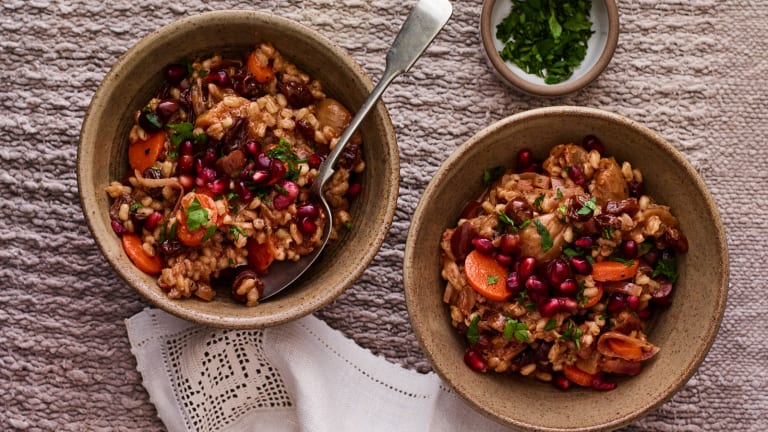 A Vegan Shabbat Lunch Menu
This week Tu Bishvat falls on Shabbat.  Tu Bishvat is the new year of the trees and literally means the 15th of Shevat, a month on the Jewish calendar.  The holiday is rooted in many traditions mostly revolving around eating lots of fruit, especially the 7 species. 
Tu Bishvat is also considered to be the Jewish Earth Day since it is a day that we really celebrate the land and nature.  It is also the only Jewish holiday where only vegan foods are eaten as part of the ritual.  This holiday that recalls the Garden of Eden where man only ate from plants.  To honor this holiday we recommend a vegan Shabbat lunch filled with fresh and dried fruits, nuts and the 7 species of the bible. 
POMEGRANATE, ORANGE, PAPAYA AND KIWI SALAD
We put every fruit we could find in this salad, but feel free to choose your own.  The perfect way to start the meal. 
The highlight of this meal is our vegan 7 species cholent.  Set this up before Shabbat and let it cook all night.  Since it is still pretty cold where most of us live, this is the perfect way to celebrate this change of the seasons. 
It is hard to know what to serve with cholent, it is a meal in itself, but since this one doesn't have any beans, this bean crostini makes a nice complement. 
The best meaty alternative out there: mushrooms.  Easy to make and best with a variety of mushrooms, you will satisfy all your meat lovers when you add this to the menu.  
There are so many more ways to enJOY a vegan menu this week, we hope you are inspired!!!
Happy Tu Bishvat.