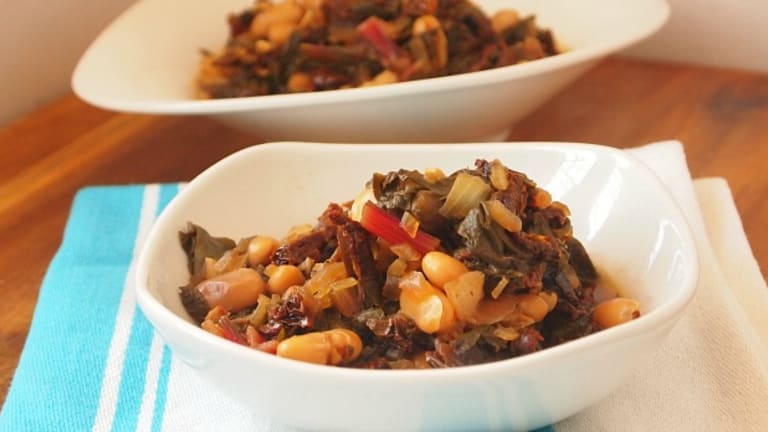 A Vegetarian Sukkot Fall Shabbat Menu
The Sukkot holiday has a strong connection to agriculture.  It is a harvest festival and the perfect time to celebrate the rich bounty of the land with a vegetarian feast for Shabbat.  
Maybe it's just me, but don't we all need a little break from the abundance of meat?  Here is my Fall comfort food vegetarian Sukkot menu. 
Lentil Salad with Acorn Squash Chips
I love decorating the Sukkah with gourds and including squash in the foods I serve.  These acorn squash chips can simply be eaten on their own, but when used to adorn a salad they make an elegant first course.  I sprinkled a little cheese on this one, but if you're vegan or want to use with a meat meal, you can skip the cheese. 
Swiss Chard and White Bean Stew
I love serving this on a Shabbat or holiday evening where I know the longer it sits on the hot plate the better it will taste.  It's hearty, satisfying and warms the body and soul.  
The stew can really be enjoyed on its own, but for something to serve alongside I like a simple cornmeal polenta. 
Yum, let's end the meal by using some of those pomegranates that are all over the place right now.  Learn to deseed a pomegranate here and then make this tart. 
If you want to include meat in the menu, leave out the cheese and either add chicken to the stew or serve it on the side.  Or take a look at another Shabbat Sukkot Menu that features meat.