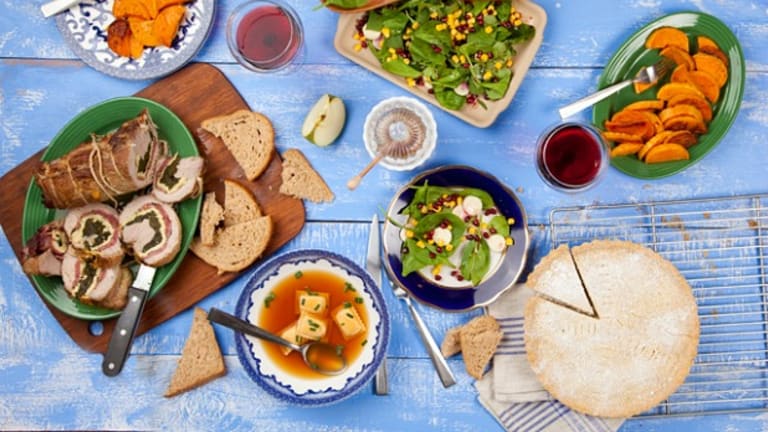 An Italian Holiday Feast
In last year's Rosh Hashanah issue of Joy of Kosher with Jamie Geller we shared three unique holiday menus.  Italian, Moroccan and traditional.  Today we will share Alessandra's Italian feast with you, but you don't want to have to wait a year for the amazing recipes and menus we feature in our magazine, get your subscription here.
This Spinach Salad is a fresh and festive start to any meal. I love the combo of hearts of palm and pomegranate seeds for taste and texture. Not to mention it is perfect for the High Holiday season.  
These borekas are crunchy, savory bites that are a great make-ahead dish.  The anchovies and capers add a salty component.
Homemade ravioli is a lot of work, so I save it for special occasions, but I make a lot because it freezes so well. Enjoy this meat ravioli in broth for a holiday meal.  
Stuffed Veal roast with swiss chard and salami is a tasty holiday main course everyone will love. It is moist and delicious. You can also use turkey breast to make it a Stuffed Turkey Roast.  
Sweet and Sour Pumpkin serves as the perfect compliment to my veal or turkey stuffed roast. Easy to prep ahead, filled with nutrients and absolutely delicious.  
SPONGATA (DOUBLE CRUSTED HONEY NUT PIE)
This dessert tastes like baklava in a pie form. (You can also use packaged frozen pareve pastry dough.) Use a 9-inch tart pan with a removable bottom.  
Recipes originally published in JOY of KOSHER with Jamie Geller Magazine Fall 2012 SUBSCRIBE NOW
Want stories like this delivered right to your inbox? Sign up now for our *free* JOY of KOSHER Newsletter.