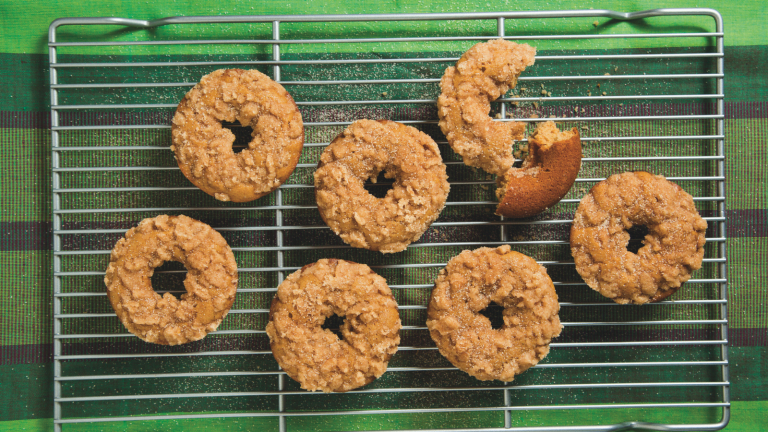 Baked Doughnuts for Hanukkah
Raise your hand if you ever really stick to your shopping list! Yeah, we didn't think so.  So if you're like us you might have found yourself with a mini doughnut pan that you never used! I
Time to make these Baked Doughnuts.  Top them with sprinkles or colored sugar and they won't last long but you might be left wondering what to bake next.  We know the Hanukah miracle is all about the oil but it's also become all about the doughnuts and sometimes we just want something a little easier and cleaner that's where baked doughnuts come in and the doughnut pan. 
You can also bake other recipes in the mini doughnut pans, such as cornbread or spinach kugel. Just adjust your baking time, since they only need to cook for 10-15 minutes.  The shape makes everything more fun to eat.  
If you are looking to avoid eating deep fried treats all 8 days of Hanukkah order yourself some doughnut pans and check out these recipes.  They are healthier doughnut alternatives, and some even use olive oil, but are baked...not fried. 
These doughnuts are AHHMAZING! The warm flavors of honey & spice combined with the addictive crumb topping, makes this easy doughnut recipe a real winner. 
If you love carrot cake you will absolutely adore these doughnuts. Another perk: These doughnuts use Extra Virgin Olive Oil in the recipe. 
 These mini doughnuts are baked instead of fried, giving you all of the delicious sweetness of a doughnut without all of the oil.   
Chocolate cake doughnuts topped with all your favorite glazes and toppings, oh yum. 
GOAT CHEESE AND SCALLION BAKED DONUTS
You can also make savory doughnuts with the doughut pan. 
Another favorite savory doughnut. 
BAKED WHOLE WHEAT CRANBERRY ORANGE DONUTS
A little healthier doughnut with whole wheat flour and cranberry. 
Looking to air fry your doughnuts and make filled sufganiyot? Check this out. 
Make air fryer doughnuts 3 ways, you won't believe how good these are.