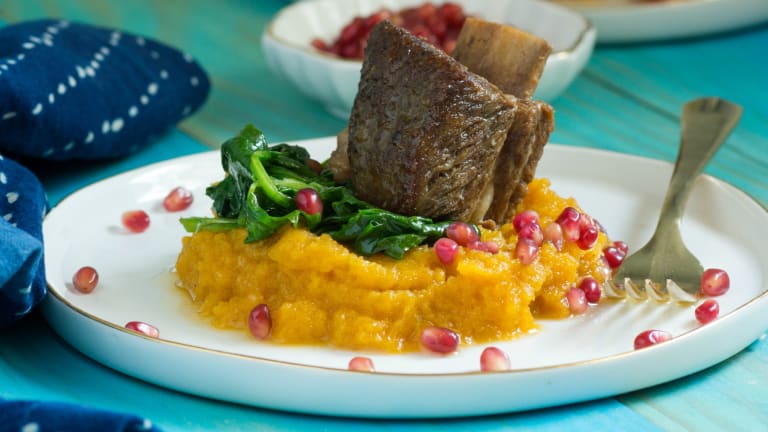 Rosh Hashanah Short Ribs

Brisket is usually my go-to meat for holidays and having guests over, but sometimes you want something with a little more presentation, but for the same amount of minimal effort (I won't tell your dinner companions if you don't).
That's where bone-in short ribs come into play. This marbled cut is best prepared low and slow, so you can braise them just like your favorite brisket or even throw them in a slow cooker. In the end, you will have super tender fall-off-the-bone meat. 
I love this beer-braised recipe because it gives you an excuse to buy a 6 pack but only use one beer; luckily short ribs pair wonderfully with more beer. Also, you can cook the butternut squash right in the braising liquid, making this recipe nearly a one-pot meal. So you can spend less time cleaning, more time tending to the beers. I mean your guests.
To get the most flavor possible, season your meat the day before you cook it, and cook it the day before you plan to serve it. 
Get the full recipe for Beer Braised Short Ribs here. 
{This post was sponsored by Grow & Behold.  All content and ideas are my own.  Thanks for supporting these sponsors that allow us to continue to create new and special content for you.}