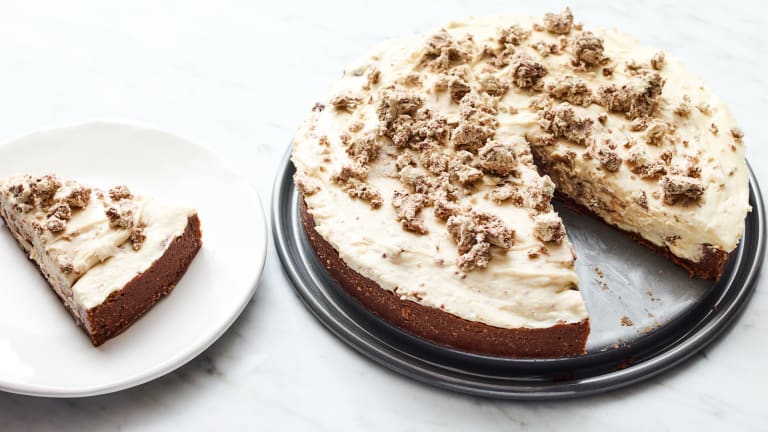 Bring Something New & Trendy to the Shavuot Table: Fresh Menu Ideas
There are literally thousands of incredible vegetarian and Shavuot friendly recipes on the site. This year, we introduced fresh, new, on-trend recipes that are in signature Jamie Geller style, quick & easy without compromise. 
Beyond tasting great, the new recipes all come with ideas on how to amp up your holiday presentation value. The edible flowerpots will astound you and your guests. The spaghetti pies take the humble spaghetti and transform it to new heights. 
Additionally, this year is all about how to set up a party or cook for a crowd with ease. Make a savory yogurt bar or poke bowl party with endless options. The great thing about creating fresh self-serve bars is that guests and family are introduced some new concepts, get to customize their food, interact with one another without you having to do much heavy lifting. 
Related: Jamie's Easiest Shavuot Menu
YOGURT BOWLS: THE ULTIMATE APPETIZER
The basic rules of a good yogurt bowl are simple. Be sure to start with high-quality ingredients. Always use fresh herbs and vegetables and try to add different textures as either ingredients or garnishes.  
POKE BOWLS: MAKE YOUR OWN & MAKE AHEAD
A Hawaiin specialty, poke is a celebration of fresh flavors, seafood and Japanese influence on Hawaiin culture. We like to think of it as the ultimate sushi salad.  Make all the elements in advance. Place each ingredient in various size bowls and you've got yourself a party!
NEW WAY TO SERVE PASTA: SPAGHETTI PIE
Who doesn't love spaghetti? Baking spaghetti in a round cake pan makes for a dramatic presentation. Sweet potato, cream, goat cheese and pasta are an incredible combination.   
EDIBLE CENTERPIECES: EDIBLE FLOWERPOT SALAD
Simple fresh food presented in an original way is what cooking in 2018 is all about. 
ISRAELI CHEESECAKES: THE BEST CHEESECAKE RECIPES
Everyone knows that Israeli's make some of the best cheesecakes around and with Israeli food trending, you've got to try at least one of these Israeli cheesecakes. 
NEW RECIPE: NO-BAKE HALVA CHEESECAKE
Now you can have your cake, eat it and relax. No-Bake cheesecake is infused with the flavors of my favorite Israeli dessert, halva. Two of my favorite things, quick and halvah!  
Want recipes like this delivered straight to your inbox? Sign up now for Jamie Geller's Weekly Newsletter.