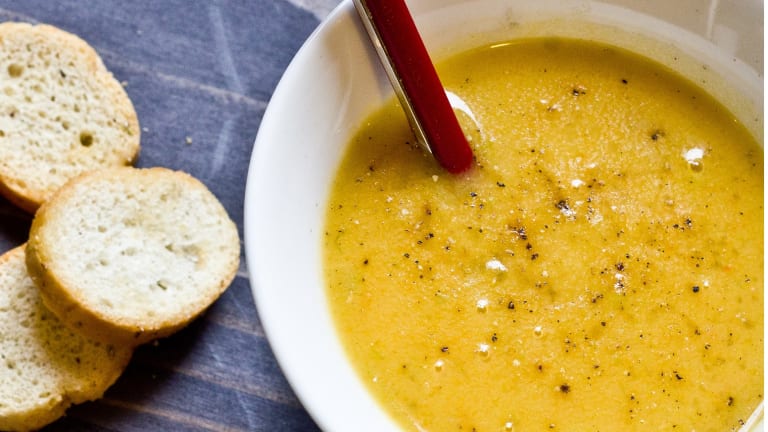 Bringing Healthy Back to Shabbat
Editor's Note: We turned to Healthy Roots Nutrition's Nilli Grutman for some fabulous Shabbat recipes that will hopefully leave you feeling great and energized as you eat to your health this Shabbat!
Maintaining our health is our most important obligation, as we cannot function or be in this world without it.
Unfortunately the typical Shabbat meal is not structured to support our health. A typical Shabbat meal can total 2,000 - 6,000 calories!!!! Which is 4-15 times more calories in a meal than we need. It is also disproportionate in fat, carbohydrates, and proteins, is not structured in a digestionally optimal way, lacks essential vitamins and minerals, and is energy draining rather than revitalizing. Oy vey!
It is very important that we enjoy our Shabbat experience. However, it is very difficult to have a pure oneg Shabbat when we feel physically, mentally, and/or emotionally drained by our food. Below are some tips that will help you maximize your oneg and your health...
Bread 
Depending on the type, bread can vary between 100-300 calories per slice. Enjoy your bread! Just make sure to limit the servings. Eating 3 slices of bread (which I am sure we have all done) can total 900 calories! Try to never eat more than 2 slices of bread per meal, and try to to wait at least 10 minutes between slices; the delay will help you feel full and help you reevaluate your hunger cues.
MORE: 13 Alternative Challah Recipes
Dips 
Dips can include pesto, tahini, hummus, etc. These delicious foods items are higher in good fats but have a higher caloric value. They can vary from 60-80 calories per dollop. Try to have low calorie side options to make up for the dips, ie. pickles, machbucha, grilled eggplant, salads, etc... 
MORE: DIY Zesty Salad Dressings
Vegetables
Raw vegetables particularly are loaded with enzymes that help break down our food and are also very life sustaining. Thus raw vegetables at the start of the course will help break down the entire meal and improve digestion.
Also it is important that the meal be filled with a variety of colored vegetables. Each color represents a different vitamin/mineral/ or plant compound that is essential for maintaining good health. I would recommend having at least 4 different colored veggies on the table to ensure that you receive an adequate variety of nutrients.
MORE: What's the Buzz About Turmeric?
Fruits 
Fruits should not be added to the course of the meal to avoid poor digestion. Fruits should always be eaten alone. Combining fruits with other foods can promote bloating, gas, diarrhea, etc. Avoid adding fruits in salads or eating them as desserts. 
MORE: Your Favorite Desserts Made Healthier
What to Eat Before Shabbat 
Coming into any meal too hungry is a recipe for disaster. Make sure to stay hydrated and to eat food throughout the day. Furthermore, make sure to have a snack 2 hours before candle lighting; this will help you eat less unnecessary foods throughout your meal.
Remember, it is important to have oneg Shabbat! Enjoy your food, enjoy your wine, enjoy your company! But most importantly do not compromise your health, it will take away from your ability to experience the joy of Shabbat.
Shabbat Shalom!
These colorful Almond Rice Stuffed Peppers are a filling and healthy vegan main dish, perfect for Shabbat.    
MORE: Zoodles 3 Ways: The Healthy "Noodles"
ZUCCHINI BASIL FRITTERS (OR KUGEL)
Zucchini Basil Fritters can also be made as a kugel. The refreshing taste of the fresh basil leaves make this healthy veggie dish a fun variation from traditional kugel at the Shabbat table.   
MORE: Heart Healthy Shabbat Menu
This healthy Easy Peasy Vegetable Stew is the ultimate blended soup, stock full of veggies. After just 3 easy steps, soup is on the table!  
MORE: 3 Warm Winter Salads: Healthy Comfort Food
This non-dairy Banana Almond Ice Cream is a guilt-free and delicious recipe for when you need a dairy free and healthy option to satisfy your ice cream craving.  
MORE: Healthy Holiday Survival Guide
This nutrient packed Almond Cake uses only 5 ingredients to create a fabulous and healthy dessert.   
MORE: Fun and Healthy Treats to Make with the Kids
 Want stories like this delivered right to your inbox? Sign up now for our *free* JOY of KOSHER Newsletter.